Decleor Neroli Bigarade Facial Toner 200ml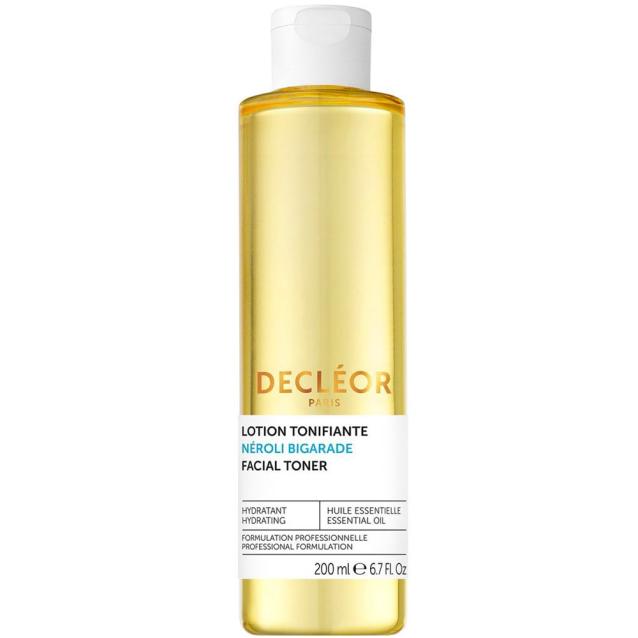 A pH balancing toner that keeps your skin soft, smooth and hydrated. Decleor Neroli Bigarade Facial Toner 200ml is infused with active ingredients that effortlessly removes impurities, tightens pores and leaves your skin radiant and fresh. This professional strength toner is used by Decleor Beauty Therapists during Decleor treatments to complete and enhance the cleansing process, so with its beautiful texture and fresh scent you can bring the beauty salon to your very own bathroom.
The Neroli Bigrade Facial Toner includes uplifting neroli essential oil that works to protect skin, prevent tightness and dehydration. Added Green Tea Essential Water tightens the pores, removes impurities, clearing and balancing the skin, leaving it revitalised and radiant.
Suitable for: all skin types, especially dehydrated.
How to use: After cleansing, apply a small amount to a damp cotton pad and gently massage the eyes, neck and face in light circular movements. Absorb any excess product with a paper tissue if necessary. For best results, use after Neroli Bigarade Cleansing Milk.
Works Well With: This professional strength toner is part of the Decleor Neroli Bigarade range, why not try out some of the other products in this effective skincare collection and build yourself a wonderful and enjoyable cleansing routine.
Is This Product The Same As The Decleor Aroma Cleanse Tonifying Lotion?
Yes, this product is the same much loved formulation as before, Decleor have just updated their branding and have made their packaging as recyclable as possible and more eco-friendly.