Dermalogica Antioxidant Hydramist 150ml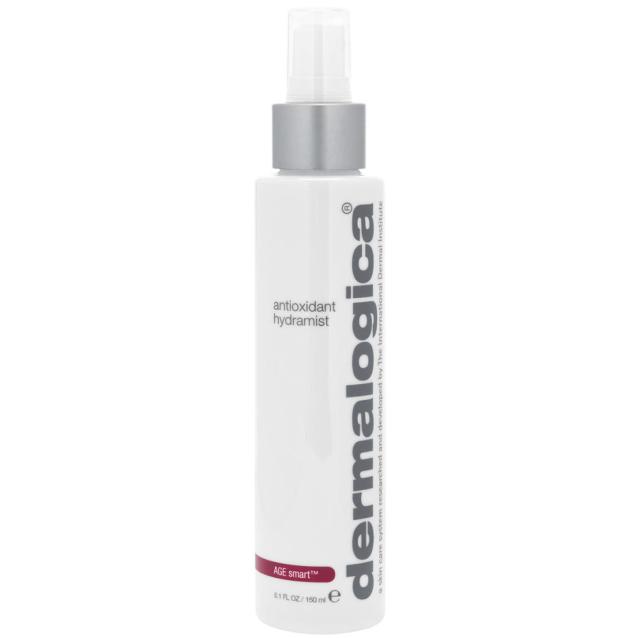 Hydrate and protect your skin with Dermalogica Antioxidant Hydramist 150ml this formula is rich in peptides and antioxidants that work hard to shield your skin against damaging free radicals. Hydrating and anti ageing with pea extract that has an instant flash firming effect on your skin, making it smoother, tighter with an improved texture. Easy to use Antioxidant Hydramist includes a highly active vitamin C complex that stimulates collagen formation, whilst bamboo extracts encourages hyaluronic acid formation for increased hydration and improved elasticity to reduce fine lines associated with dryness. This facial toner is oil free and will not clog pores. In a convenient spray bottle to spritz over your skin after cleansing or throughout the day over makeup with its delicate scent of rose and clove extract to leave you feeling fresh and comforted. Expect firmer, smoother and hydrated skin with the benefit of protection from skin ageing assault.
Suitable for: dry, dehyrated, mature or prematurely ageing skin.
What does Dermalogica Antioxidant Hydramist do?
Has an instant firming action to help lift and tighten skin
Rich in antioxidants help defend against the causes of skin ageing
Collagen stimulating peptides encourages firmness and elasticity
Hyaluronic acid acts as a hydration magnet.
How to use: After cleansing, spritz directly onto face and neck, avoiding the eyes. Also ideal as a refreshing spritz over make-up throughout the day.
Ruth Sharratt Confirmed Purchase
Aug 15, 2023
Lovely product - feels refreshing and soothing on the skin.
JG Customer Confirmed Purchase
Apr 4, 2020
Tried so many toners, but this is the best
Fiona Fulton Confirmed Purchase
Mar 24, 2020
I find the bottle lasts a long time as I only need a coupe of squirts of this. Instantly makes my skin feel refreshed and dewy.