Voesh is 100% Vegan Spa Treatments for Head to Toe. VOESH is your go-to source for vegan spa treatments that are clean, safe, and healthy. Made with natural ingredients, VOESH products are perfect for a relaxing spa day at home or a professional treatment in the salon. With VOESH, you can experience the luxurious feeling of a spa treatment without ever leaving your home. Our products are made with the finest natural ingredients, and they are free of harsh chemicals, synthetic fragrances, and artificial colours. Shop VOESH online at John and Ginger today! Get great prices and free skincare samples with your order.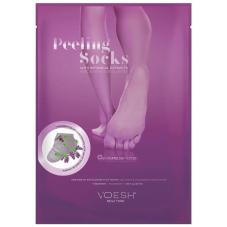 Exfoliating Peeling Socks - 1 Pair
The perfect regimen for dry, rough feet. These single-use socks naturally break down dead skin and hardened calluses to reveal smooth skin underneath, in as little as 7 days.