Megi Wellness is an advanced hair supplement that aims to look after your hair by providing a natural solution to support overall healthy growth. Megi Wellness UK offers capsules for effective supplementation, with their ingredients playing a crucial role in strengthening the hair and follicles, keeping it in optimum and healthier condition. Also recommended for individuals struggling with hair loss. You can buy Megi Wellness online at John And Ginger, if you need any advice you can contact us here on our website or by phone. Buy with confidence from authorised stockists at great prices with free skincare samples with your order. Get shiny, glossy, healthy looking hair.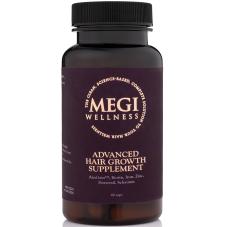 Hair Growth Supplement 60 Caps
Powered by Biotin, Folic Acid and Horsetail, this innovative wellness supplement strengthens follicles, stimulates hair growth, prevents hair loss, and maintains the body's building blocks to support overall healthy and strong hair.
60 capsules, 1 month supply.