Dermalogica Ultracalming Cleanser 500ml Pump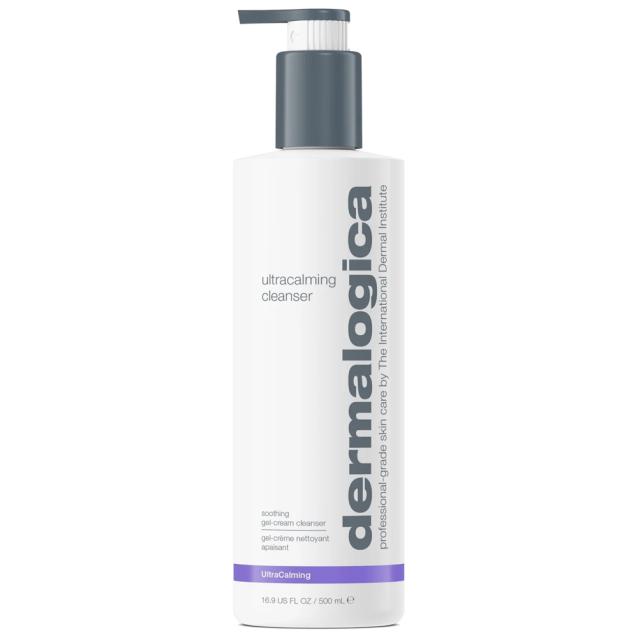 Dermalogica Ultracalming Cleanser 500ml Big Pump effectively cleanses the skin removing, dirt, oil, pollution and impurities without damaging its protective barrier. A moisturising cleanser perfect for those with even the most sensitive of skin types, restoring skins radiance with essential hydration. Ultracalming Cleanser is extremely gentle and can either be rinsed off or gently removed with tissue or a sponge cloth, great for those of you that do not like to use water. A soothing cleanser that helps to protect skin against sensitivity caused by exposure to pollution, harsh climates, stress, hormonal imbalances, irritating cosmetics and other environmental influences. This product contains no artificial fragrance or colour, giving you lasting relief from sensitivity flareups.
Benefits:
Gentle, non-foaming cleanser glides gently over skin to minimise agitation.
Leaves no irritating residue.
Lavender helps soothe, Coneflower helps calm, and Cucumber helps cool irritation.
May be removed with tissue, making it ideal for skin too sensitised for water.
How to use: Following the application of PreCleanse, apply to the face and throat, gently massaging with fingertips with light, upward strokes. Rinse thoroughly with warm water or remove with dry cotton pads. Follow with UltraCalming Mist and Barrier Repair.
JG Customer Confirmed Purchase
Feb 7, 2023
Another indispensable product in my simple but effective Dermalogica skin routine. Combined with the pre-cleanse and super rich repair, my sensitive skin has never been smoother, calmer, happier, or more radiant.
JG Customer Confirmed Purchase
Apr 19, 2022
wouldnt be without it; calming and effective. cleanser, rinse or wipe off as you prefer. if wearing spf or make up, combine with precleanse for incredibly soothed and gleaming skin.

Alison Walker Confirmed Purchase
Jan 1, 2022
Sarah Howarth Confirmed Purchase
Oct 7, 2021
a lovely, calming product for sensitive skin - also great value in this size of dispenser
GILLIAN DICKINSON Confirmed Purchase
Jun 22, 2021
All Dermalogica products speak for their self, they do what they say they do.
JEAN MALONEY Confirmed Purchase
Apr 28, 2021
After using special cleansing gel for a number of years, I began to develop red spots around my cheeks which lasted for 2 to 3 weeks. I was fortunate to speak with Alex from J&G who suggested it may be rosacea and suggested the ultra calming range which helps to calm redness and sensitivity. I now use the cleanser, toner and the moisturising gel as a day cream and my skin looks much clearer with no visible age spots or discolouration from previous sunburn. Also.. no more spots. Thanks J&G once again
Dorothy Russell Confirmed Purchase
Jul 13, 2020
I love this product. Very gentle on my skin, non-drying, couldn't do without it
JG Customer Confirmed Purchase
Jan 27, 2020
calms my sensitive skin; tones down redness, and removes the little makeup i wear well, including (glossier) mascara. 500ml pumps lasts for ages, very economical.
Clare Lucas Confirmed Purchase
Oct 4, 2019
Good product
Mrs Ami Johal Confirmed Purchase
Apr 20, 2018
Always used this product very good for my skin type.