Dermalogica Skin Smoothing Cream Moisturiser 100ml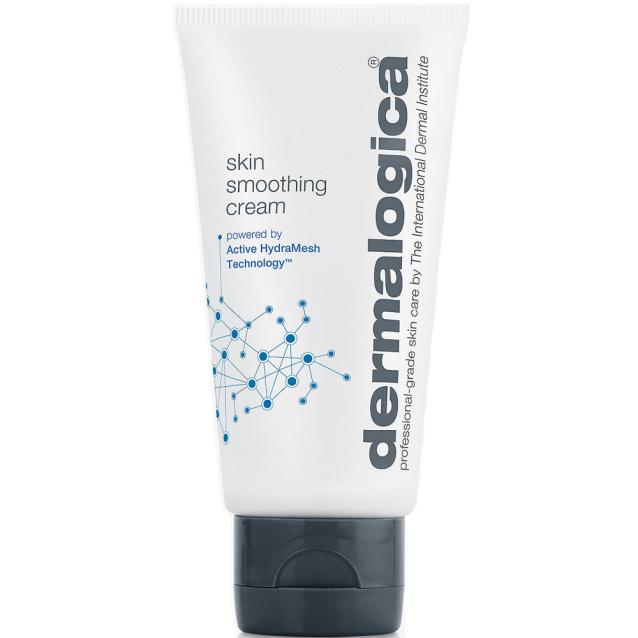 Keep skin hydrated with continuous moisture for up to 48 hours with Dermalogica Skin Smoothing Cream 100ml. It gradually replenishes thirsty skin with much needed moisture whilst protecting it from damaging environmental stress. Skin Smoothing Cream is a non greasy cream with a medium weight finish that supports the good bacteria that keeps your skin healthy and protected, and fortifies the skins barrier for healthier smoother looking skin. Discover for yourself why this is our best selling Dermalogica Face Cream.
Suitable for: Dehydrated, drier or prematurely ageing skin.
Benefits:
Silk amino acids smooths dehydration lines and improves elasticity
Reduces trans-epidermal water loss
Antioxidant vitamins C, E and grape seed extract help protect against free radicals
Rich emollients help shield against dehydration and pollution
Powered by Active Hydra-Mesh Technology for 48 hours of continuous hydration
Protects against environmental stress
How to use: After cleansing and toning, apply over face and throat in light, upward strokes. Use twice daily, morning and night. Prep skin with Multi Active Toner to enhance moisturiser absorption.
Upgrade your skincare ritual with Dermalogica Skin Smoothing Cream 100ml, your go-to solution for resilient and luminous skin. Beyond merely hydrating, this nurturing formula works in harmony with your skin's natural microbiome, delivering a balanced blend of nutrients and antioxidants right where you need them. From first application to the lasting benefits, experience the difference that science-backed skincare can make. Adopt this Skin Smoothing Cream into your regimen and relish the newfound vitality and glow that every discerning skincare enthusiast seeks.
What does skin smoothing cream do?
Dermalogica Skin Smoothing Cream is powered by Active Hydramesh Technology, a unique mesh like structure that prevents moisture loss so that skin is left hydrated for a full 48 hours. It improves skin texture by boosting moisture levels and helps to restore suppleness. After just one use your skin will feel softer, smoother, and look healthier.
Free Smoothing And Firming Results Made Easy Duo Set added to your parcel, when you spend £85 or more on Dermalogica. T&C apply.
Mark Robson Confirmed Purchase
Aug 27, 2023
Great moisturiser that's perfect all year round.
JG Customer Confirmed Purchase
Dec 27, 2022
I use this product all year round. My skin is combination becoming more dry in the winter months. I find this cream stops my skin from getting dry in winter yet also isn't greasy in the hot summer months.
Janet Morley Confirmed Purchase
Oct 22, 2022
Lovely feeling and smelling day cream.
Linda Hetherington Confirmed Purchase
Mar 11, 2022
I use this daily, it's great light on your skin but keeps your skin we'll moisturised
JEAN MALONEY Confirmed Purchase
Jun 25, 2021
I have used this product for years and although I alternate it with other dermalogica face creams, I wouldn't ever stop using SSC. Its the best moisturizer for very dry skin and always gives a radiant healthy glow
Linda Hetherington Confirmed Purchase
Jan 26, 2021
Love this cream, great for sensitive skin, used it for years
FERHEEN BAIG Confirmed Purchase
Sep 15, 2020
Have tried many different face creams but always come back to this
Linda Hetherington Confirmed Purchase
Jul 6, 2020
Skin smoothing cream is light non greasy, great for my skin type of normal to dry and age approaching 60 years young
JG Customer Confirmed Purchase
May 29, 2020
Skin feels smooth with this cream. Does not feel greasy or cause breakouts.
Mrs Ami Johal Confirmed Purchase
Apr 4, 2020
Been using this cream for many years absorbs really well onto face.
Jean Lancaster Confirmed Purchase
Jan 28, 2020
I use this every day as it's a perfect moisturiser. It doesn't leave the face feeling greasy but it does feel perfectly moisturised.
jackie johnston Confirmed Purchase
Oct 4, 2018
Lovely product, have been using for years.
JG Customer Confirmed Purchase
Sep 27, 2018
I used to use Dermalogica skin smoothing cream but then tried an alternative face cream for a while. My skin wasn't as bright and fresh and just didn't feel the same. Since going back to using Dermalogica, my skin has improved immensely and has never looked and felt so good. This is a wonderful product, a miracle cream that feeds the skin. I will never use anything else on my skin!
Jane Pike Confirmed Purchase
Mar 22, 2018
I've been using this now probably for 10 years or so. (in hot weather I sometimes use Active Moist instead) The formula is instantly hydrating and refreshing. As I've got a bit older, and especially since developing a chronic illness, my skin soaks up the moisturiser quicker and provides an instant improvement (presumably a sign that my skin is ageing and needs moisturising more as time passes). Definitely the best moisturisers I've ever tried though.