Dermalogica Special Cleansing Gel Refill Pack 500ml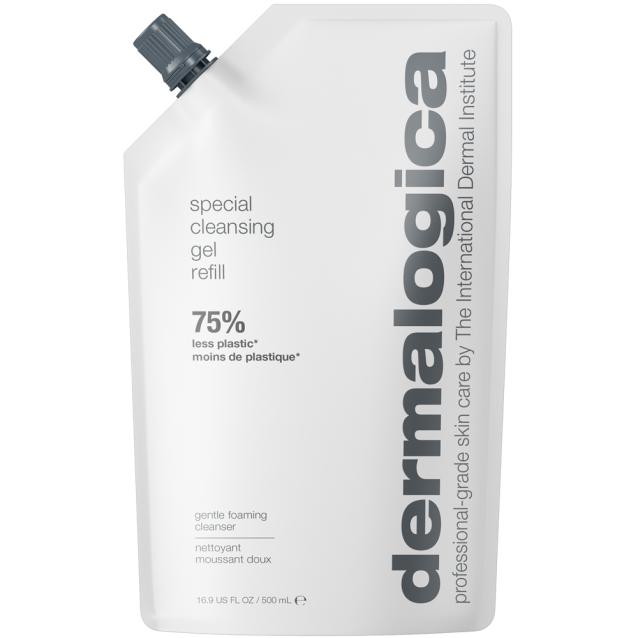 Introducing the Dermalogica Special Cleansing Gel Refill Pack - their second in their range of refillable products, designed to help you reduce waste and support sustainability efforts.
By choosing the Special Cleansing Gel Refill Pack, you will be doing your part to support sustainability efforts while enjoying all the benefits of this iconic cleanser. It's suitable for both current users of Special Cleansing Gel and anyone who is passionate about reducing waste. This face cleanser contains calming agents that help to soothe and purify your skin, leaving it feeling refreshed and rejuvenated. And with the easy-to-use refill pack, you can enjoy all of these benefits while doing your part for the planet.
Please note that this refill pouch is not recyclable, but it is designed to help reduce plastic consumption and support sustainability efforts. So, if you are looking for a way to reduce waste and support eco-friendly practices, then this is the perfect choice.
Suitable for: all skin types.
Benefits:
reduces waste and refills original Special Cleansing Gel
uses 75% less plastic than the standard retail bottle and pump
resealable spout for easy pouring
refill any size bottle
Washes away impurities without stripping or drying
Calming agents help soothe and purify skin
How to use: When your Special Cleansing Gel bottle is empty, take cap or pump off the bottle. Unscrew the cap from the refill's resealable spout. Tilt pouch over bottle opening. Place the spout towards the opening of the bottle and slowly pour the product into the bottle. Replace cap back onto the resealable pouch and bottle. Use Special Cleansing Gel as directed on bottle.