Dermalogica Intensive Moisture Balance Moisturiser 100ml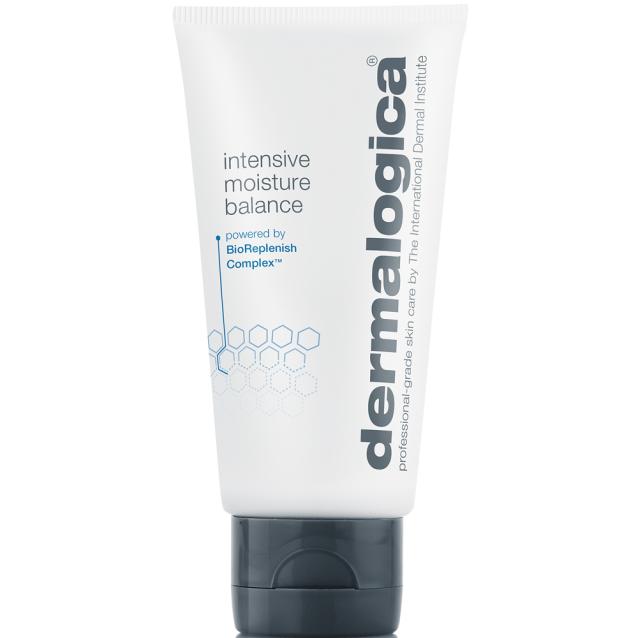 An ultra nourishing daily face cream for dry and dull skin types. Dermalogica Intensive Moisture Balance Moisturiser 100ml will leave your complexion just how you want it to be, soft, supple and youthful, as it strengthens the skins barrier making it more resilient, improving texture and tone. Formulated with a Bio Replenish Complex that helps nourish your skin ten layers deep and restores the lipid balance for the healthiest, plumpest look you could imagine. As well as much needed lipids Intensive Moisture Balance Moisturiser also contains a Chlorella algae complex, a prebiotic which works to bring harmony to your skin's microbiome, keeping all your good bacteria happy for a healthier and restored complexion. Hyaluronic Acid, combined with Echinacea, Centella Asiatica and Aloe Vera, delivers long lasting hydration improving skins moisture content, reducing the appearance of fine lines. This glow giving moisturiser is the best treat you can give to a drier, or mature skin prone to dry patches.
Suitable for: dry, mature, dehydrated skin.
What does Dermalogica Intensive Moisture Balance do?
Antioxidants help prevent free radical damage.
Bio Replenish Complex nourishes skin ten layers deep.
Ultra nourishing and hydrating
Smooths the appearance of fine lines.
Lipid barrier is strengthened to help prevent moisture loss.
Works in harmony with your skin's microbiome
How to use: Apply over damp face and throat with light, upward strokes. Use twice daily, morning and night.
Beauty expert tip: To get extra benefits from your Dermalogica Intensive moisturiser remember to exfoliate your skin 2 to 3 times a week. Our beauty expert Alex Echeverri says "clients with dry skin conditions make the mistake of applying more moisturiser when their skin feels exceptionally dry. By exfoliating the skin regularly, you will remove surface dead skin cells that can make the skin appear dull and lifeless. Not only will you improve the skins dryness you will also use less moisturiser. Also try to prep skin with Multi Active Toner to enhance moisturiser absorption".
Lesley Bassadona Confirmed Purchase
Oct 11, 2023
Love this product
Carrie Walsh Confirmed Purchase
Jul 30, 2022
Its light on your face but does what it needs to.
My hero product.
Carrie Walsh Confirmed Purchase
Jul 30, 2022
Dies the job
Linda Hetherington Confirmed Purchase
Mar 11, 2022
Just started using this one as a older lady I thought a richer cream might be good to use now and again along with the skin smoothing cream, love it so far.
Mrs J Pamphlett Confirmed Purchase
Feb 8, 2022
Goes on like a dream, I love this face cream, rich enough but not too heavy either.
GILLIAN DICKINSON Confirmed Purchase
Jun 22, 2021
Diane Power Confirmed Purchase
Jun 9, 2020
Love very nice on skin
Sue Lawton Confirmed Purchase
May 21, 2020
Think this will be in my basket next time!!
Amanda Clamp Confirmed Purchase
Dec 19, 2019
Best moisturiser you can buy.
Margaret Platt Confirmed Purchase
Sep 25, 2019