Dermalogica Dynamic Skin Recovery SPF50 Moisturiser 50ml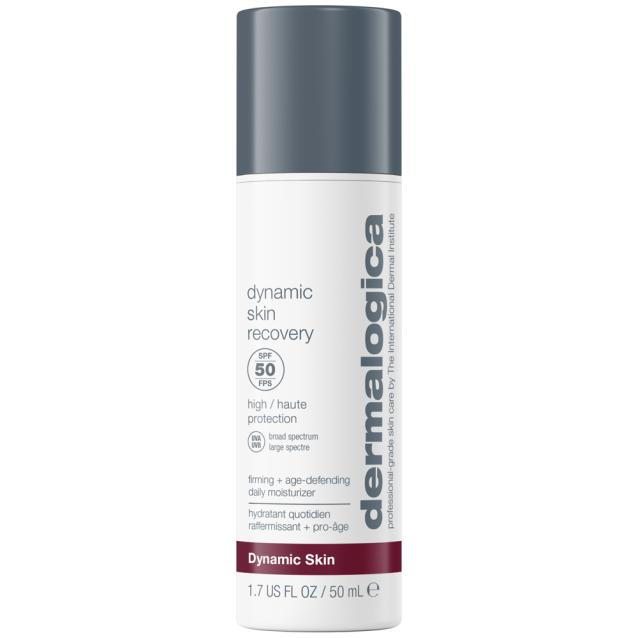 Protect, nourish and firm your skin while giving it UV protection with Dermalogica Dynamic Skin Recovery SPF50 Moisturiser 50ml a firming, daily moisturiser with a luxurious emollient formula that not only protects against damaging free radicals with its broad spectrum SPF50, but also gives absolute hydration and helps defend against the internal and external causes of skin ageing. Dynamic Skin Recovery is the ultimate one stop daily sunscreen, moisturiser and anti ageing treatment in one, it contains the brands exclusive AGE Smart complex with scientifically advanced ingredients proven to impact the major biochemical reactions that contribute to skin ageing before they start, so your skin is left smoother, firmer and healthier.
Free from parabens, artificial fragrance and colour and stored in an airless pump to protect the ingredients, this quickly absorbed formula contains active sunscreens that protect against UVA and UVB rays, plus antioxidant white tea rich in polyphenols and a unique polypeptide that helps to improve the appearance of photo aged skin without feeling heavy, blending smoothly for a skin perfect finish.
Suitable for: skin ageing, uneven skin tone, dryness and dehydration.
Benefits:
Provides long lasting hydration and critical protection against UV light.
Helps control the triggers that lead to skin ageing.
Blends smoothly into skin for a perfected finish.
How to use: After cleansing and toning, apply a generous amount of Dynamic Skin Recovery to face and neck, preferably 30 minutes prior to sun exposure.
Dermalogica Dynamic Skin Recovery is much loved by our customers from the UK and Europe for its properties and SFP50 factor.
Indira Thomas Confirmed Purchase
Nov 2, 2022
JEAN MALONEY Confirmed Purchase
Aug 1, 2022
I have used this product for a number of years and it definitely doesn't make me look any younger, however, it does provide a nice base under foundation and for me its good mixed with a tint for lighter coverage. My husband also uses it for sun protection as it isn't sensitive to the eyes as some sun creams are. John and ginger have been my 'go to' seller for 20 years + and although I still shop around and occasionally find cheaper, I love the samples and free gifts they send depending on how much you spend. The website is easy to navigate and provides plenty of information and support. I have never had any problems but I do feel confident that they would help to sort.
Indira Thomas Confirmed Purchase
Jul 3, 2021
Diane Power Confirmed Purchase
Jul 31, 2020
Good quality product and added bonus of SPF. I use the full Age Smart range and have seen improvements with my overall skin health
Sue Lawton Confirmed Purchase
May 21, 2020
I use this moisturiser all the time and I love it!!
Pauline Silverwood Confirmed Purchase
Mar 26, 2020
Fiona Fulton Confirmed Purchase
Mar 24, 2020
Been using this product for probably 20 years or so. I am 57 and my skin has few lines. It is very dry so this product moisturises it well and the bottle lasts a good couple of months.
JG Customer Confirmed Purchase
Mar 19, 2020
Like the product.
JG Customer Confirmed Purchase
Mar 16, 2020
Dr June Mercer-Chalmers Confirmed Purchase
Jan 23, 2019
Wonderful if expensive