Dermalogica Super Rich Repair Moisturiser 50ml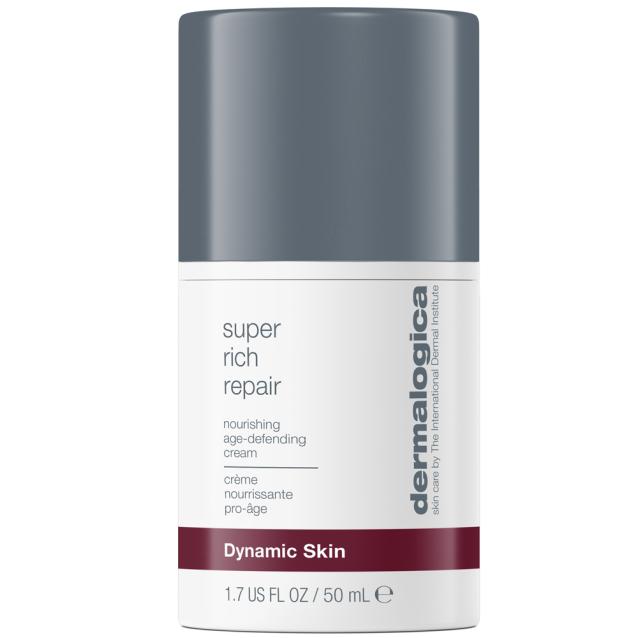 If you suffer from chronically dry and dehydrated skin then Dermalogica Super Rich Repair Moisturiser is the moisturiser you need. The heavyweight of moisturisers that includes Shea butter and evening primrose oil to replenish those barrier lipids, leaving your skin more comfortable Powerful peptides stimulates collagen and improves skin tone and elasticity. Acting as a protective balm, Super Rich Repair Moisturiser works to shield chronically dry skin conditions from environmental assault, replenishing moisture levels which makes the skin feel deeply nourished. Fortified with Allantoin to help soothe even sensitive skins, this hard working moisturiser will comfort, relieve tightness, and soften your complexion. For an extra boost at night we recommend using this moisturiser over the top of a Dermalogica serum.
Suitable for: Chronically dry, mature or prematurely-ageing skin.
Why should I use Super Rich Repair?
Soothes and insulates skin against extreme environmental elements
Replenishes barrier lipids while moisturising
Heavyweight cream
Fortified with Allantoin to help soothe
Shea Butter and Evening Primrose promotes a healthy barrier
How to use: Apply to face and neck with light, upward strokes. Wait for cream to absorb before applying additional products. Use once or twice daily.
Lisa Morgan Confirmed Purchase
Aug 23, 2023
I have sensitive dry skin and this moisturiser is a dream.
JG Customer Confirmed Purchase
Feb 7, 2023
Essential, indispensable, especially but not only in winter. FYI, I am 49 years old, with fair, sensitive, unusually youthful-looking skin - for so long as I keep on using this product! I stopped using it for a few weeks this winter and the difference was really quite marked – was like my skin had aged 10 years. I like to keep things simple; I use this at night with something lighter plus an .spf cream in the daytime. I also follow the dermalogica two-step cleansing routine: precleanse, applied with the exfoliating mitt that comes with it, followed by the ultracalming cleanser, wiped off with tissues rather than rinsed. I also do occasional Dermalogica peels.
JG Customer Confirmed Purchase
May 20, 2022
Always pleased to use this product. Always go back to it. An essential buy for me now
JG Customer Confirmed Purchase
Jan 20, 2022
Amazing stuff, especially but not only in winter. I use this as my regular night cream all year round and get a lot of compliments. Vegan and perfect for sensitive skin.
JG Customer Confirmed Purchase
Apr 2, 2021
Recommended by a beauty therapist and I've never looked back!
Linda Jordan Confirmed Purchase
Apr 13, 2020
Georgeous cream. The best moisturiser I have ever used.
Linda Jordan Confirmed Purchase
Mar 16, 2020
It is definitely the best moisturiser.
Glenise Sharpe Confirmed Purchase
Mar 3, 2020
what a difference to my menopausal skin i love this product
JG Customer Confirmed Purchase
Jun 5, 2018
It works for me. I have sensitive skin, and had many problems with other facial creams in the past, including those for sensitive skin. I haven't been using any other facial moisturisers for years, and I think my skin is the best it can be thanks to Dermalogica Super Rich Cream.