Dermalogica Multi Active Toner 250ml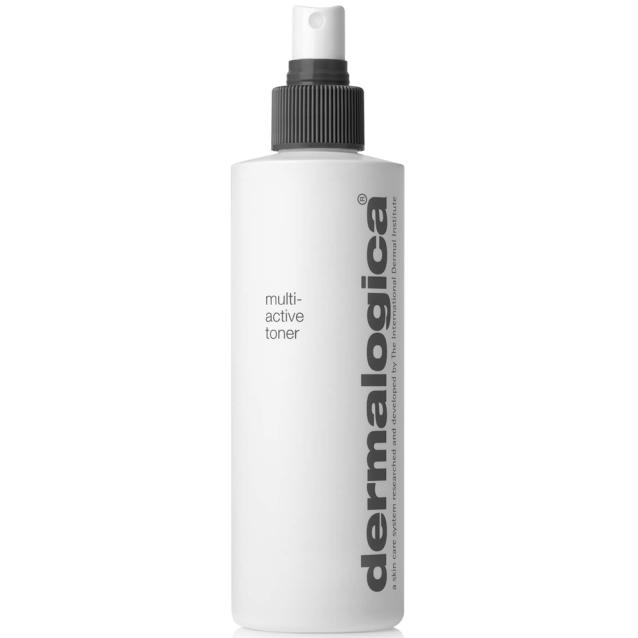 Spray Dermalogica Multi Active Toner 250ml after cleansing or throughout the day to refresh and hydrate your skin. An important step in your cleansing routine as Multi Active Toner aids with the absorption of your Dermalogica Moisturiser and helps to even out the porosity of your skin. Hydration is provided with moisture binding humectants, Balm Mint and Aloe Vera, whilst the skin is soothed by naturally antiseptic Lavender. Perfect for travel as its ultra light spray means it can be applied over makeup to refresh the skin and give a much needed boost of moisture.
Suitable for: all skin conditions.
How it works:
Lavender Extract is a natural antiseptic which soothes and purifies the skin.
Balm Mint and Aloe Vera cool and soften the skin.
Extracts of Arnica and Cucumber are natural skin fresheners that help condition skin.
Moisture binding proteins act as humectants to allow for more effective moisture absorption.
How to use: After double cleansing or shaving, spray directly over the entire face and throat with eyes closed. Follow with the prescribed Dermalogica moisturiser.
GILLIAN DICKINSON Confirmed Purchase
Jun 22, 2021
JG Customer Confirmed Purchase
Mar 19, 2020
Useful.
Nicola Hulse Confirmed Purchase
Oct 1, 2019
Makes my skin feel refreshed
Margaret Platt Confirmed Purchase
Sep 25, 2019
I`ve used for many years now and wouldn`t like to do without it. Is it a rumour that Victoria Beckham uses this???
Maria Busso Confirmed Purchase
Sep 24, 2019
Perfect every time always carry with me for and instant freshen up