Karin Herzog Silhouette Anti Cellulite Body Lotion 150ml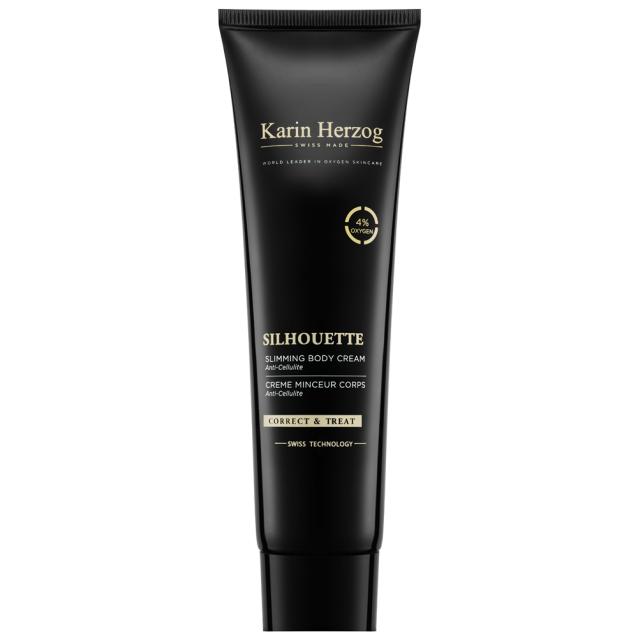 Karin Herzog Silhouette Anti Cellulite Body Lotion, containing 4% Oxygen, is celebrated for its effectiveness in enhancing the appearance of skin.
Distinct from many products targeting uneven skin texture, this lotion does not contain Caffeine. Instead, it features 4% oxygen to reach the parts of the body where skin irregularities and dense fatty areas are most prevalent. Recognised as an impactful slimming treatment, it helps to harmonise the skin's texture and contour the body by reducing undesired deposits as it tones and refines the skin's surface. This lotion assists in dispersing the fatty tissues, often associated with uneven skin appearance. The 4% oxygen, a high concentration, in this slimming cream exerts gentle pressure on the fatty areas, aiding in their reduction, thus promoting smoother skin. The lotion's efficacy is further enhanced when used in conjunction with its complementary product, Tonus B12, supporting you in achieving a more refined skin appearance.
In a 60-day test on 20 volunteers, this product demonstrated significant results: the thigh circumference was reduced by 23.18%, skin firmness increased by 31%, and skin elasticity improved by 8.91%. Apply twice daily for best results.
Benefits:
A light emulsion designed to work from the inside, whilst leaving a luxuriously silky residue on the surface of the skin to hydrate and provide all day comfort.
Disperses adipose tissue by forcing Oxygen gas deep into the tissues, blasting away toxins that block the capillaries, causing uneven bumpy skin.
Provides the area with enough energy to wash away the trapped toxins and maintain healthy, vibrant smooth skin.
Increases hydration levels that remain high all day.
Relieves aches and pains in tired legs
Prevents the laying down of fatty deposits.
Firms, and tightens skin.
Increases circulation and improves the skins natural repairing and regenerative properties.
Strong antiseptic to kill bacteria and detox.
How to use: Apply a thin layer of Silhouette to clean, dry skin using a brush one or twice a day, without massaging, onto the areas concerned. Leave to act for 7 to 10 minutes. Rinse if desired. As the toning action of oxygen on the skin is very effective, it is possible that you may feel slight tingling. Finish with Tonus B12 cream, massaging it in for a few minutes (palpate and roll the skin from bottom to top), in order to drain and evacuate fatty deposits quicker.
Expert tip: When we recommend that you do not massage into the skin, we should like to point out that your hands will absorb a large quantity of cream with greater rapidity than the skin on the face and body. Therefore, if you massage into the skin when applying a cream for the face or body, too much of the effect of our patented products vanishes into the hands instead of acting where it was intended.
Paraben and preservative free and not tested on animals.