Karin Herzog Eye Cream 15ml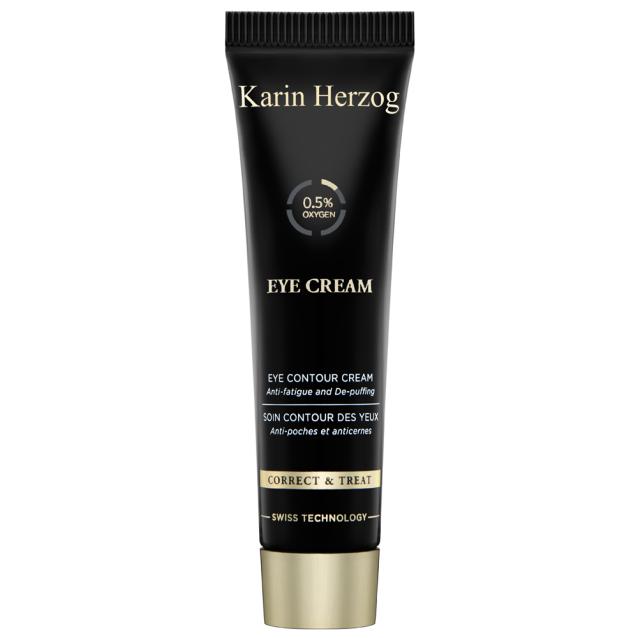 Karin Herzog Eye Cream has 0.5% oxygen and its new consistency is more fluid, the texture is finer, thanks to the vegetable oils which have replaced the mineral oils. The texture is lighter and penetrates also more quickly than the previous formula. The cream odour is also fresher than before.
Hyper enriched with gentle and nourishing vitamins and with a 0.5% oxygen concentration, this cream has been designed for application to the eye contour area where the skin is extremely delicate and subject to premature ageing. Karin Herzog Eye Cream helps decongest and relax the eyelids and the skin around the eyes, so eliminating dark circles. It is a particular aid in the reduction and prevention of fine lines and restores the ideal hydro-lipid film for maximum comfort. Cell metabolism is stimulated so that fresh healthy skin soon appears; giving rise to a firmer, brighter eye area.
KH Eye Cream has won the Editor's Choice Award for best eye creams in the Beauty Shortlist Awards
How to use:
Morning and night, apply to the area all around the eyes and the eyelids, without massaging into the skin.
Apply a thin layer around the eyes and the eyelids using a brush.
Do not massage in.
Leave to absorb for at least 30 seconds.
Massage in any excess.
Use daily, morning and night.
Avoid the eyebrows.
Expert tip:
This product is also excellent for the lip area, and can be applied alone or over Vita-A-Kombi Facial Oil for a more intense treatment. Used regularly it will help to plump up the lips, firm the area and reduce and retard fine lines.
Following pregnancy, this product is effective in the treatment of sore or cracked nipples.
The oxygen in the cream promotes quick healing of the area, and helps kill bacteria on the skins surface.
Also excellent for the lip area to combat the signs of premature ageing.
For a plumping effect apply E&R Hyaluronic Serum afterwards.
Avoid contact with eyebrows, as this product may lighten hair over time.
For best results, apply with the Small Brush in order to avoid the absorption of the active ingredients through the fingertips.
Paraben and preservative free and not tested on animals.
Gail Hoffman Confirmed Purchase
Feb 14, 2023
Love it and I feel I have less lines round my eyes which is great as I take lenses in and out all the time
Sheila Clarke Confirmed Purchase
Feb 8, 2022
love that I can also use it also on my eyelids. Gets rid of puffiness too
Keely Price Confirmed Purchase
Feb 8, 2022
I have been using this eye cream for some time, and have found it to be highly effective for erasing lines, and de-puffing my eyes. I would highly recommend it.
JG Customer Confirmed Purchase
Aug 13, 2021
This eye cream is by far the best in the market for getting rid of lines and dark circles. I have been using it on and off for a while but I always return to it after trialling other eye creams because it is so effective.
Keely Price Confirmed Purchase
Aug 2, 2021
I have been using this eye product on and off for a couple of years. But I always end up returning to it because it really helps improve dark circles and the lines around the eyes. I would recommend it highly, and It is also a useful size to take away in your overnight bag too.
Keely Price Confirmed Purchase
Jun 8, 2021
This is by far the best eye cream I have ever used, and I have tried many. I would really recommend this product if you suffer with dark circles.
JG Customer Confirmed Purchase
Dec 14, 2020
The only one that does exactly what it says
Julie Poole Confirmed Purchase
Jun 15, 2020
This product is just incredible! My lines and wrinkles literally disappeared around my eyes within 48 hours! Astounding results and worth every penny.
JG Customer Confirmed Purchase
Dec 14, 2019
JG Customer Confirmed Purchase
Apr 10, 2018
Love this.
It reduces puffiness and is not heavy like some eye creams. Makes my eye area feel alive and 'plumper' and thevtight, dry feeling I used to get has gone.
Great for the lips too. Helps reduce those little lines.
Graça Grazina Confirmed Purchase
Mar 23, 2018
Penelope Blank Confirmed Purchase
Mar 22, 2018
Excellent product used for last 15 years with consistent great results