Karin Herzog Professional Cleansing 50ml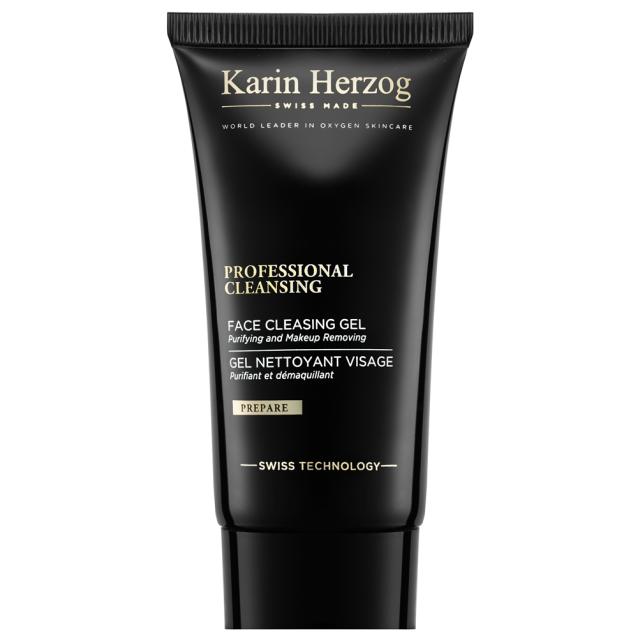 This is a cleanser and makeup remover in one, with an extraordinary texture to nourish and condition the skin as well as cleansing. Karin Herzog Professional Cleansing works like magic, creating a vacuum effect on the skin, trapping air and allowing none in or out. This cleanser works to dislodge blockages in the skin, and when removed literally sucks out the dirt. Probably the most effective, yet gentle, cleansers on the market and suitable for all skin types.
Expert tip: Ideal to use as a preparation product to prepare the skin, before using an active oxygen skin cream.
Benefits:
A wax consistency allowing very little product to go a long way.
Creates a Vacuum effect on the surface of the skin to literally suck out unwanted dirt, sebum and grime from the pores, when removed.
Simply and effectively melts away debris, toxins and makeup, including eye makeup.
So gentle it does not affect the PH balance of the skin.
How to use: Do not add water. Heat a small quantity of the gel in your hands and massage it all over the face. Remove with the Silk Towel or a wipe and moderately warm water. They are suitable for all skin types and particularly recommended for sensitive skin types.
Using a Karin Herzog Face Silk in water as hot as you can comfortably tolerate (if you are prone to broken capillaries use only tepid water, as heat will aggravate the condition), press the silk directly onto the face and leave for a few seconds; rinse the silk in warm water, apply again to the face and remove any traces of cleanser with circular movements. Finally rinse the silk in cold water and apply direct to the face and press, leaving for a few seconds. The skin should now look fresh, bright and radiant.
Paraben and preservative free and not tested on animals.
Margaret Bell Confirmed Purchase
Nov 10, 2023
I am very happy with this product so easy to use and my skin feels very nourished.
Mary Parkinson Confirmed Purchase
Oct 19, 2022
Margaret Bell Confirmed Purchase
Aug 31, 2022
Just Love this product use it all the time.
Bethany Dawson Confirmed Purchase
Apr 3, 2022
My favourite cleanser! I've tried others but keep coming back to this as it is it the best at keeping my skin clear. Fantastic product!
Tatiana Milko Confirmed Purchase
May 16, 2021
Liz Hughes Confirmed Purchase
Feb 16, 2021
I have tried many cleansers over my many years ! and for me this one is the best.
Barbi Laine Confirmed Purchase
Nov 18, 2020
puhdistaa hyvin, mutta kaikki silmämeikki ei lähde. tuote on riittoisaa, mutta hinta on kova huomioonottaen vähäisen määrän.