Karin Herzog Vita A Kombi Oil 15ml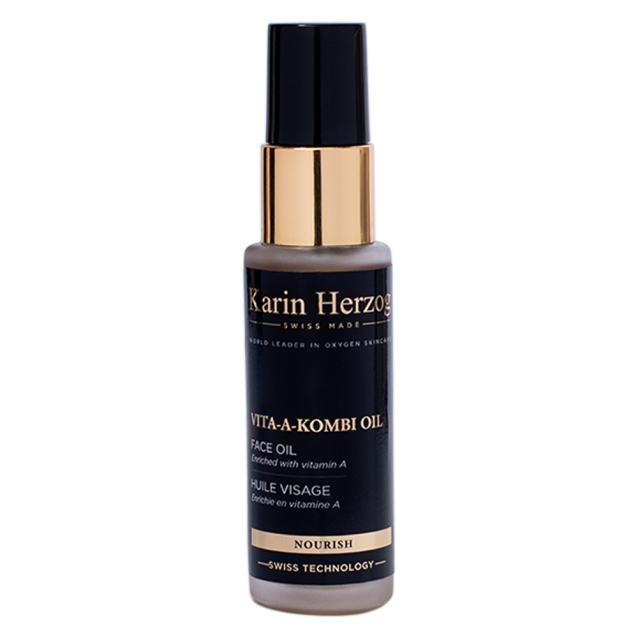 Karin Herzog Vita A Kombi Oil has won the Editors Choice Award for face oil in the Beauty Shortlist Awards. Unique, light and advanced, Vita A Kombi Oil contains concentrated vitamins A and E allowing you to deliver essential vitamins exactly where you want them on targeted areas, ensuring advanced results. Additionally, this oil has a calming, soothing and softening effect on dry, flaky or traumatised damaged skin.
For your skin to produce its very own collagen it needs plenty of vitamins, especially vitamin A, and many raw materials which it gets from Karin Herzog Oxygen creams. It is recommended that this oil is applied underneath your chosen Karin Herzog Oxygen cream to ensure the deep transportation of these raw vitamins, providing optimum results on fine lines and wrinkles so that skin looks radiant, luminous, firm and soft. This oil, with a high concentration of vitamin A, vitamin E, avocado oil and sesame oil, is wonderfully nourishing for the skin and ideal for using before the Vita A Kombi creams during the winter, on dry skin or for an additional anti wrinkle impact.
The added vitamins A and E make this product essential following exposure to the sun, leaving the skin fresh, soft and hydrated. Vitamins A and E are essential for the skin to repair and replenish itself. So if you intend to go on holiday, make sure you remember to pack Karin Herzog Vita A Kombi Facial Oil.
How to use: Apply a few drops to the face and neck and leave to penetrate for a few moments. Then apply your prescribed Vita A Kombi cream.
Expert tips: The oil can also be rubbed into the nail beds before applying the Oxygen Nail Cream, to provide an intense home care routine, resulting in healthy strong nails that grow whiter and quicker. Used alternatively on the lips at night under the eye cream, this product helps to plump the lip area and eliminate dry, flaky or cracked lips.
Paraben and preservative free and not tested on animals.
What's The Difference Between Karin Herzog Vita A Kombi Oil And Apricot Oil?
Karin Herzog Apricot Oil is rich in fatty acids and is suitable for dry skin that lacks oil and also sensitive skin. Vita A Kombi Oil is for skin that is dry, dehydrated, flaky and dull.
Tatiana Milko Confirmed Purchase
May 16, 2021
Liz Hughes Confirmed Purchase
Feb 16, 2021
Della Thomas Confirmed Purchase
Jan 13, 2021
Excellent product would highly recommend
Mihaela Purnavel Confirmed Purchase
Oct 29, 2020
A delicate smell like all other Karin Herzog product.
It leaves my skin very smooth and lively.
JG Customer Confirmed Purchase
May 8, 2020
Excellent product, have used before. Delivered within a few days.
Penelope Blank Confirmed Purchase
Mar 22, 2018
Excellent product used for last 15 years with consistent great results