Karin Herzog Oxygen Body 3% 150ml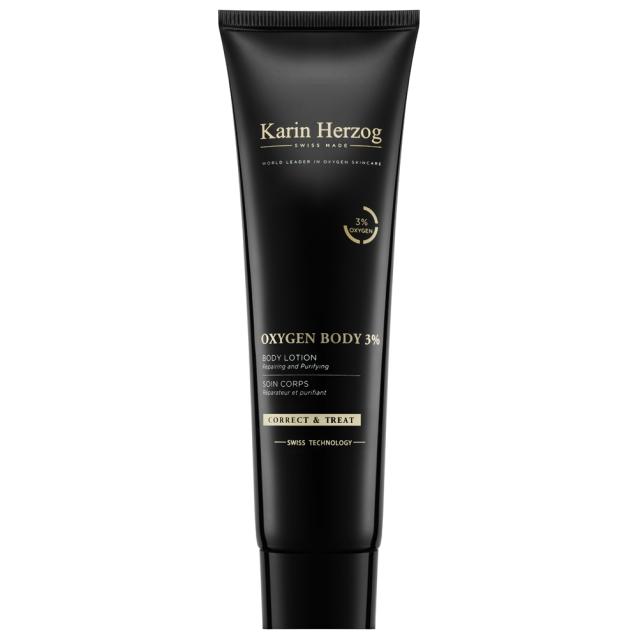 A detoxifying body cream suitable for acne, sun damage, scar tissue and breakouts. Karin Herzog Oxygen Body 3% is fragrance free and has boundless uses. Its self massaging effect creates a micro massage of the tissues, as the oxygen is pushed into the skin stimulating the circulation, hydrating and softening beyond belief.
A very efficient detoxifying cream that can be classed as safe and effective skin disinfectant. In an era when pollution and infection are rising it is good to know there is a natural and safe product that looks after the well being of the skin and helps keep bacteria and infection at bay. Bust, forearms and stomach will all be firmer with this wonderful cream with 3% oxygen that tones to perfection.
Benefits:
Essential as an age management program for the body, with added benefits to refine and heal the skin.
Used by Doctors to speed up the healing process,
Has many uses as a general and natural mild antiseptic cream.
Combats the feeling of heavy legs and promotes healthy skin all over the body.
Applied regularly to the lymph nodes on the body to cleanse, stimulate and eliminate toxins.
Calms itchy skin
Hydrates dry skin
Regulates excess sebum, ideal for fighting impurities on blemishes on the back.
How to use: Apply a thin layer of cream on problematic areas and spread without massaging excessively into the skin.
Paraben and preservative free and not tested on animals.