Karin Herzog Tonus B12 Body Toning Lotion 150ml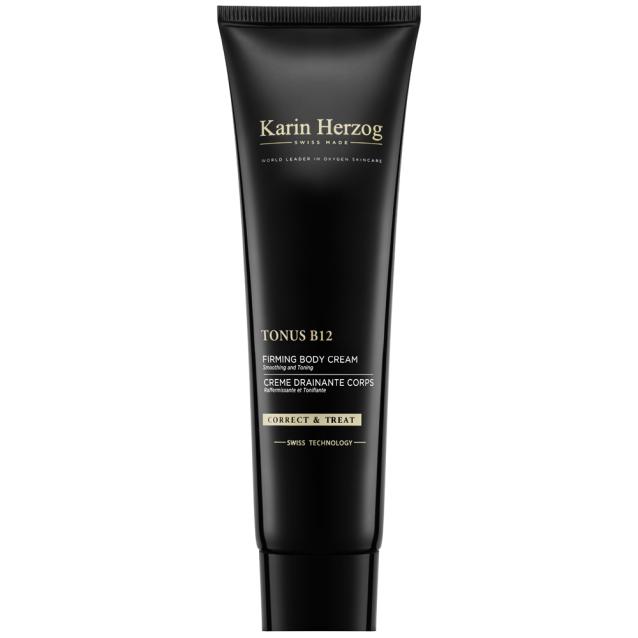 This is a brilliant dynamic body tonic, Karin Herzog Tonus B12 tones and firms the skin, leaving it smoother with greater elasticity, with a refreshing and uplifting aroma and luxurious texture to give long lasting hydration. This toning product can be used alone for all skin types, or used in conjunction with Karin Herzog Silhouette to get staggering results. The oxygen power and energy rush enables the skin and body to utilise the vitamins, minerals and providential elements of Tonus B12 to maximum effect.
Vitamin B12 has the reputation of being the optimum anti fatigue vitamin. Combined with green tea, this toning cream also has a draining effect, forming the ideal complement to the "Silhouette" treatment for jodhpur thighs and other undesirable fatty accumulations.
Benefits:
Tones the skin, leaving it firmer, smoother with greater elasticity.
Increases energy and vitality levels.
Anti-stress, anti-fatigue, anti-ache, anti-ageing.
Softens, nourishes and conditions down to the dermis.
Slimming and re-contouring. Increases the metabolism of fatty deposits into increased energy.
A true holistic, deeply rewarding benefit inside and out.
Potent Vitamin B12 and organic Green Tea make this product an advanced body tonic.
Sesame, avocado, jojoba and jasmine condition and nourish.
How to use: Massage Tonus B12 onto the area using deep and sweeping movements until fully absorbed. Please note a little goes a long way so use sparingly. For increased potency and enhanced results apply before and after an application of Karin Herzog's Silhouette.
Paraben and preservative free and not tested on animals.