Karin Herzog Dynamic Duo With Silhouette And Tonus B12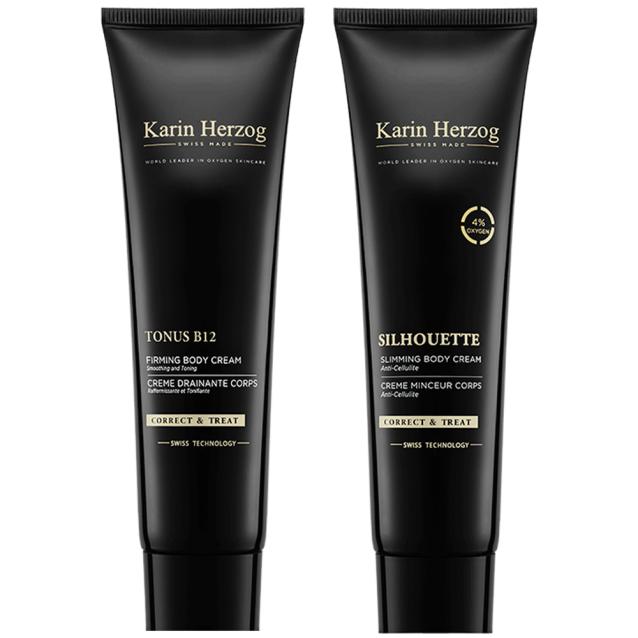 Karin Herzog Dynamic Duo includes two full size body care treatments, Silhouette and Tonus B12. A better price when you buy them together.
Fight cellulite, firm up skin and remodel your silhouette with these two full sized body care treatments from Karin Herzog, designed to tone and refine the skin. Silhouette body slimming cream contains 4% of active oxygen to break down fatty deposits, tone the skin and fight cellulite. Silhouette is formulated to act locally on these parts of the body which are most vulnerable to cellulite. Tonus B12 body draining cream works on draining and toning, with high concentrations of Vitamin B12 and Green Tea. Tonus B12 help to eliminate toxins, tone the skin and restore the skin's youthful density and elasticity.
Uncover perfectly toned skin with this ground-breaking slimming kit, Karin Herzog Dynamic Duo Cellulite Toning Set helps to fight cellulite and firm your skin as it breaks down fatty deposits and reduces cellulite, leaving skin firms and toned.
How to use:
Apply a thin layer of cream to the areas of the body which are affected (thighs, stomach, bust and inner arms), once or twice daily.
Spread the cream without massaging into the skin.
Allow to absorb for 7-10 minutes.
Complete this treatment with Tonus B12, massaging into the skin until completely absorbed.
Francesca Bradley Confirmed Purchase
May 27, 2022
Have used before and while it doesn't make cellulite magically disappear it definitely helps with minimising it. Would definitely recommend buying the 2 products together as one compliments the other.
Silhouette - should be almost patted on to skin and *not* rubbed in, if done correctly it makes your skin tingle and should be left for 10mins. Once 10mins has gone by its quite thick and can be difficult to fully rub in so recommend using the Tones B12 to help smooth it all .. Your skin can be a bit tacky after applying both products but doesn't feel greasy and quickly absorbs.