Dermalogica Ultracalming Serum Concentrate 40ml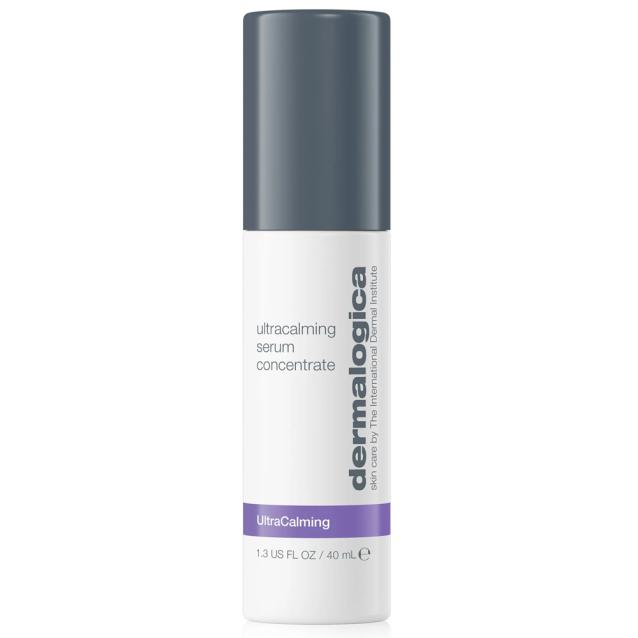 Dermalogica Ultracalming Serum Concentrate is great for sensitised, reactive and recently resurfaced skin. Packed with anti inflammatory extracts, this super concentrated skin serum helps to calm, restore and defend sensitive skin. Peptides help to reduce skin redness plus oils of evening primrose, sunflower seed and avocado help to fortify the skins barrier lipid layer, protecting against assaults that trigger redness and irritation. This product can be used on it is own, or for added moisturisation apply before your chosen Dermalogica moisturiser. Ultracalming Concentrate serum contains no artificial fragrance or colour, giving you lasting relief from sensitivity flare-ups.
How to use: After cleansing and spraying with Ultracalming Mist, apply a generous amount to face, neck and chest with light, upward strokes. Use twice daily, morning and night. For additional moisturisation, follow application with Barrier Repair, Calm Water Gel or other recommended Dermalogica Moisturiser.
What Are The Signs Of Sensitive Skin?
Sensitive skin can often show the following symptoms: Thin skin texture with a translucent appearance. A feeling of tightness, which can indicate dehydration and lead to skin reactions from products. Redness or blotchiness. This signals over reactive capillaries or a tendency toward rosacea. Flaking, peeling or cracking on the cheeks and forehead. This indicates dehydrated skin and impaired barrier function. Flushing and itching, or burning sensations, which can also be a sign of over-reactive capillaries. Small, rash-like bumps or breakouts, not to be confused with acne breakouts.
What Is The Difference Between Sensitive And Sensitised Skin?
Sensitive skin is usually down to genetics and the skin you are born with, and sensitised skin that causes flare-ups is usually caused by outside factors in your environment. Knowing more about what causes your skin to react will help you determine if it is sensitive or sensitised so you can find out how to keep your skin strong and healthy.
Free Smoothing And Firming Results Made Easy Duo Set added to your parcel, when you spend £85 or more on Dermalogica. T&C apply.
Angela Atkinson Confirmed Purchase
Aug 21, 2023
My go to product to use when my skin is feeling very sensitive and before using moisturiser.
JG Customer Confirmed Purchase
Dec 27, 2022
I started to use this when Dermalogica stopped producing the Redness Relief Essence. It is a good replacement. It calms my face and neck which are prone to redness due to sensitivity.