Dermalogica Daily Microfoliant Exfoliator 74g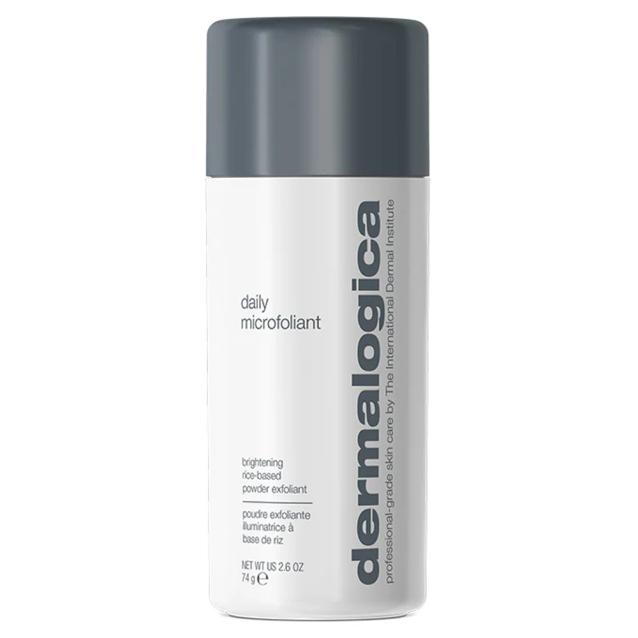 This product is: a unique exfoliating rice based powder to leave skin smoother and brighter, combined with skin brightening enzymes that work to micro exfoliate your skin, removing dulling dead skin cells, balancing pigmentation, tightening pores and brightening dull and dehydrated skins.
Suitable for: all skin types.
Dermalogica Daily Microfoliant Exfoliator 74g is a rice based powder blend of physical and chemical exfoliants that are activated with water to gently polish skin, so that it is brighter and smoother. Gentle enough for daily use to give skin a boost, it has a special blend of ingredients that include papain, salicylic acid and rice that release enzymes having a super smoothing effect on your complexion. A skin brightening complex of grapefruit and licorice in Daily Microfoliant Exfoliator helps to balance uneven pigmentation for a more even complexion, while Green Tea, Ginkgo and Colloidal Oatmeal make up a soothing blend to calm any irritation. Microfoliant Exfoliator is so gentle it is even ideal for the most sensitive of skins and can be used over your eyes and lips.
Benefits:
Removes dull surface dead skin cells
Stimulates cell renewal
Gentle enough for daily use.
Balance uneven pigmentation and evens skin tone
Reveals brighter, smoother skin.
How to use: Dispense about half a teaspoon into very wet hands and create a creamy paste by rubbing hands together. Apply to face in circular motions, avoiding the eye area. Massage gently for one minute, then rinse thoroughly. Follow with a prescribed toner and moisturiser.
Expert tip: mix in with your Dermalogica Facial cleanser, we love to mix Daily Microfoliant with Resurfacing Cleanser for a quick exfoliating cleanse.
You can buy Dermalogica Daily Microfoliant online at John And Ginger and get great prices, free UK delivery and free skincare samples with your order.
About Dermalogica
Dermalogica revolutionized the skin care industry when it emerged into the marketplace in 1986 with innovative formulations, which excluded common irritants, including SD alcohol, lanolin, mineral oil and artificial colours and fragrances. Jane Wurwand developed the products to better support the advanced curriculum she had developed a few years earlier for The International Dermal Institute, which she also founded. Wurwand led the company's growth from an idea to the world's most-requested professional skin care brand.

Dermalogica today is sold in more than 100 countries worldwide and trains over 100,000 professionals per year around the globe. Dermalogica products are available in select skin treatment centres on the recommendation of a qualified professional skin therapist in addition to the brand's concept spaces located around the world and online at Dermalogica.com. Dermalogica is made in the USA, with its global operations based in Carson, just south of Los Angeles.
What does daily Microfoliant do?
Exfoliates your skin, gently removing dulling debris, tightening pores and brightening dull and dehydrated skin. The enzymes activates on contact with water, releasing papain, salicylic acid and rice enzymes for a smoothing effect on your skin complexion.
How often should you use Dermalogica Daily Microfoliant?
We recommend to actually use it up to 4 times per week only. Although you could use it daily as it is soft enough. Please see how your skin feels after the first 10 days, if you want to use it daily.
Is Dermalogica Daily Microfoliant good for acne?
Gentle exfoliation is a good key to improve your skin condition. Daily Microfoliant could help to stop dead skin cell clogging your pores, but please see how your skin reacts after a couple of uses, and ask your skincare therapist for more advice, especially if you are on medication.
How is Daily Microfoliant different from Daily Milkfoliant and Daily Superfoliant?
While Daily Microfoliant is a rice-based brightening exfoliant and Daily Superfoliant is a charcoal-based resurfacing exfoliant, Daily Milkfoliant is a calming, oat-based powder exfoliant. This vegan, milky powder exfoliant features Oat and Coconut that activate upon contact with water, releasing botanical extracts rich in AHA and BHA to help polish away dead skin cells.
Free Smoothing And Firming Results Made Easy Duo Set added to your parcel, when you spend £85 or more on Dermalogica. T&C apply.
Lisa Morgan Confirmed Purchase
Jul 11, 2023
This is a great product for exfoliating daily and does not dry the skin out. I have used this product regularly for several years and highly recommend it.
Indira Thomas Confirmed Purchase
Nov 2, 2022
Good
JG Customer Confirmed Purchase
Aug 20, 2021
Looking to buy the full size when my other exfoliants run out.
Beautifully smooth skin, I assume less preservatives too since you add water during use.
Jean Maloney Confirmed Purchase
Dec 23, 2020
Great for brightening the skin when used regularly. it is not harsh and would be suitable for sensitive skin in my opinion. Avoid the eye area
FERHEEN BAIG Confirmed Purchase
Sep 15, 2020
Can't beat it! Have used it for over a decade and failed to find any better alternative
JG Customer Confirmed Purchase
Mar 19, 2020
Helps my skin.
Lynn Reynolds Confirmed Purchase
Oct 23, 2019
I love this microfoliant. It's the best one i've used. It's gentle but effective.
JG Customer Confirmed Purchase
Aug 1, 2018
This was bought as a present and the recipient is extremely pleased
Robina Scott Confirmed Purchase
Apr 19, 2018
I've used this for years. So gentle on my sensitive skin, yet so effective.