Dermalogica Barrier Repair 30ml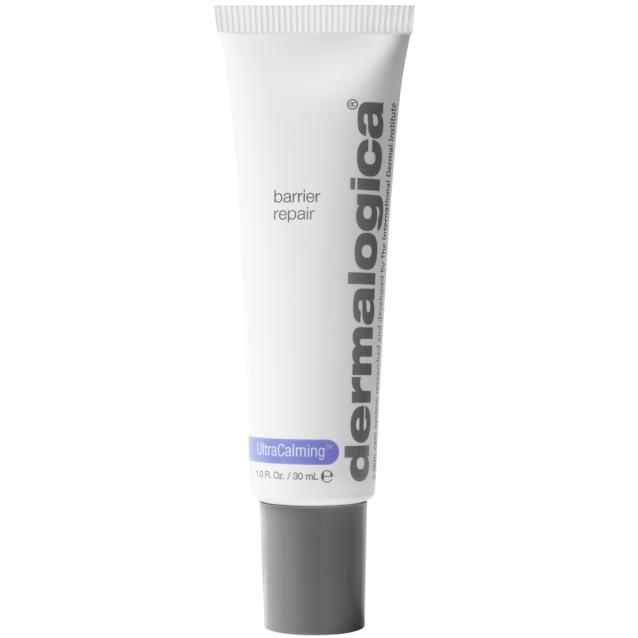 Dermalogica Barrier Repair 30ml is a waterless moisturiser that is good for sensitised skin as it helps to repair and protect a damaged skin barrier. Its velvety formula with oat and botanical actives shields the skin against stress triggers, like humidity, pollution and sudden changes in temperature. Ultracalming Barrier Repair contains evening primrose oil, borage seed oil and vitamins C and E to combat free radicals and restore the skin, giving you lasting relief from sensitivity flareups.
Benefits:
Exclusive UltraCalming Complex reduces sensitivity, redness, irritation and inflammation.
Shields against environmental assault to help prevent further damaging assaults.
Vitamins C and E help combat free radicals and stimulate collagen formation.
Provides a smooth, even base, ideal for preparing skin for make-up application.
How to use: Apply a small amount evenly over face and throat with light, upward strokes. Best used following UltraCalming Mist and UltraCalming Serum Concentrate. Use twice daily, morning and night.
JG Customer Confirmed Purchase
Jun 15, 2023
JG Customer Confirmed Purchase
Mar 21, 2023
Another excellent product by Dermalogica. I suffer from Rosacea and this is my go to product. Although it doesn't cure it, it certainly helps by building up and protecting my skin's barrier. Also a lovely moisturiser for anyone to use. Would recommend.
JG Customer Confirmed Purchase
May 25, 2022
Highly recommend Dermalogica Barrier Repair, lovely consistency, you don't need much to moisturise your face, have used it for years, now at 67 and still have lovely soft skin, so no complaints from me.
JG Customer Confirmed Purchase
Apr 2, 2022
My skin feels tight after washing but I cannot use face cream as it does not 'sink' into my skin. Face cream leaves my skin looking greasy and sweaty. This gel does the job and provides a base for foundation.
Alison Walker Confirmed Purchase
Jan 1, 2022
JG Customer Confirmed Purchase
Jan 27, 2020
comfortable and calming for very sensitized skin. so helpful as a barrier when the central heating's on. at night, i sometimes add a drop of tea tree oil and mix it in before applying, which deals well with demodex-related rosacea.
JG Customer Confirmed Purchase
Sep 5, 2019
Another great product from Dermalogica. My sensitive skin says "thank you" to this barrier.
Lynn Stewart Confirmed Purchase
Jun 29, 2018
as always am very pleased with this product and have been using it some years now
Jane Sinclair Confirmed Purchase
Mar 29, 2018
I have very sensitive skin and this is one of the few products that I can use around my eyes. It's got a lovely silky feel and has never caused any irritation.