Dermalogica Active Moist Moisturiser 100ml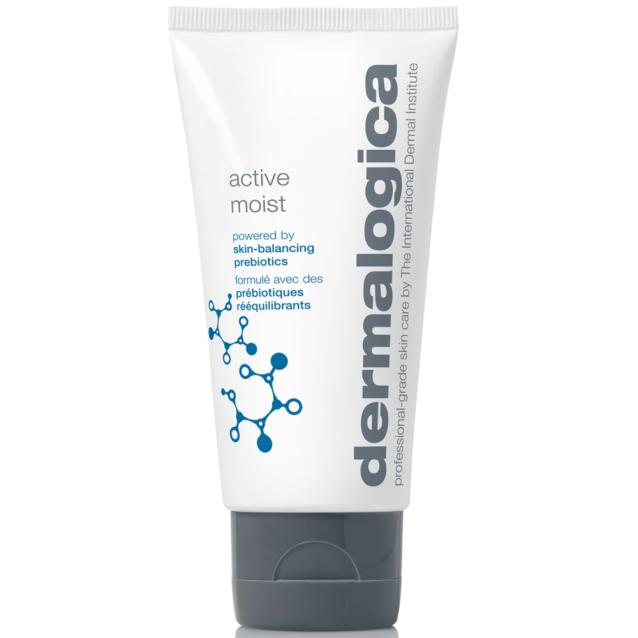 Dermalogica Active Moist combats surface dehydration with its unique formulation that works to improve the texture of your skin, preventing moisture loss so that skin feels and looks smoother. This is also a great moisturiser if your skin experiences seasonal oiliness or struggles when the temperature rises. Great underneath makeup and quickly absorbed with no greasy after feel. A must have for those with oily and combination skin. Active Moist Moisturiser is oil free and lightweight and contains Dermalogica's Prebiotic Moisture Complex, a unique combination of plant extracts that help improve surface texture and combat surface dehydration. Natural botanical extracts of lemon, cucumber and burdock help to refine the skin and tighten open pores leaving it shine free and feeling smooth and supple without causing breakouts.
Suitable for: normal, oily, combination skin.
What are the benefits of Dermalogica Active Moist?
Sheer formula provides effective oil free hydration without a greasy after feel.
Prebiotic moisture complex helps smooth and improve skin texture and combat surface dehydration.
Natural botanicals of lemon, cucumber, burdock help refine skin.
How to use: After cleansing and toning, apply over face and neck in light, upward strokes. Use twice daily, morning and night.
Cecil Akhigbe Confirmed Purchase
Jan 31, 2023
Great
JG Customer Confirmed Purchase
Feb 8, 2021
Gorgeous moisturiser which suits my sensitive but slightly oily skin. My skin is clearer and calm and looks plumped.
Nicola Hulse Confirmed Purchase
Oct 1, 2019
I have used this product for many years and love the feel of it on my skin. It is not greasy and gives it a fresh feel
Nicola Hulse Confirmed Purchase
Oct 1, 2019
Great for when travelling
JG Customer Confirmed Purchase
Jul 6, 2018
Nicola Hulse Confirmed Purchase
Mar 22, 2018
Really light moisturiser with a lovely smell. Makes skin feel refreshed and clean