Karin Herzog Oxygen Sun 150ml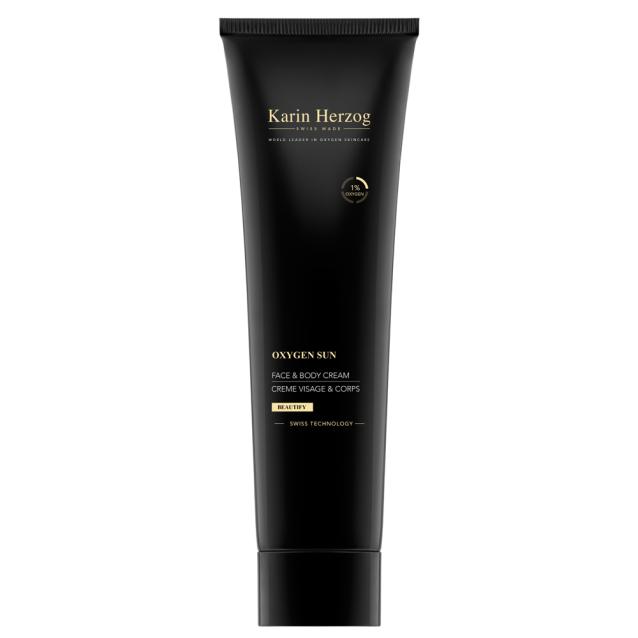 A fantastic formula of 1% active oxygen to help accelerate your tan. Karin Herzog Oxygen Sun can be used on the face and body to hydrate and aid healing and repair, whilst minimising peeling and blistering, resulting in an even healthy tan. Use Karin Herzog Oxygen Sun Tan Accelerator for at least 2 weeks before sun exposure and then as a pre and after sun treatment. Karin Herzog Oxygen Sun can also be used for anyone who uses sun beds. You will acquire a superb, even tan thanks to its oxygen content, Oxygen Sun ensures not only an even melanin spread but also optimal skin hydration.
Benefits:
Oxygen will ensure that the skin has the energy to compensate against the aggressive sunlight.
Oxygen helps to redistribute the skins own melanin to help provide a more even natural protection.
Delivering extra water will ensure higher moisture content in the skin and help to keep the skin hydrated during sun exposure.
How to use: Ideally should be applied twice per day to all area of the body to be exposed to harsh sunlight, and should be commenced at least 2 weeks before travelling. Whilst away, apply twice per day as a pre and post sun exposure treatment. Apply in a thin coat without massaging, when it has absorbed apply your normal SPF cream. When actually bathing or exposed to sun, still use an spf cream, as this Oxygen sun cream increases hydration and helps reduce damage and peeling, but works from within the skin.
Paraben and preservative free and not tested on animals.