Karin Herzog Oxygen Hyalu Lift 30ml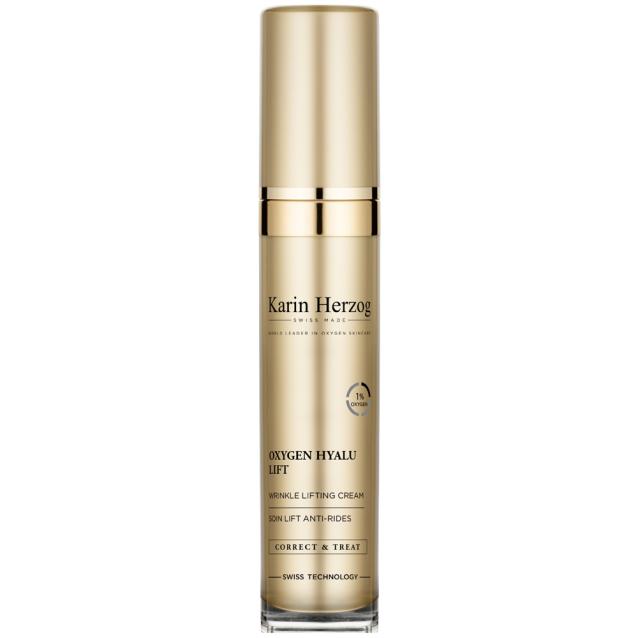 This innovative lifting treatment combines the benefit of active oxygen with hyaluronic acid for an incredible anti ageing result. Karin Herzog Oxygen Hyalu Lift regenerates the skin, firms the epidermis and redefines the contours of the face. With the Oxygen Hyalu Lift Wrinkle Lifting Cream and just after just one month your skin will look and feel lifted and more youthful.
Benefits:
Immediate Lifting effect
Firming
Regenerating
Moisturising
Efficiency results:
Reduces deep wrinkles up to 40%
Visibly reduces the signs of ageing
Replenishes moisture, firms up and smooths skin
100% of women have show an improvement in skin's firmness
85% of women are satisfied with the hydration effect and have noticed its efficiency against skin roughness
80% of women have gained skin elasticity
*Clinically tested by the Lab ABICH S.r.l, specialist in cosmetic research, on 20 women from 35 to 65 years old during 90 days.
How to use: Apply a thin layer, without massaging, morning and/or evening, to perfectly cleansed skin or specifically to the parts of the face requiring treatment. Complete with a nourishing treatment for optimal comfort.
Paraben and preservative free and not tested on animals.
How Do I Use Karin Herzog Oxygen Hyalu Lift With Other Karin Herzog Products?
As this product contains 1% oxygen we recommend applying a thin layer with a brush. You can apply it over the top of either the Apricot or Vita Kombi Oil if required, and then complete your routine with either Additional Sweet Face Cream, Vitamin H Face Cream, or Day Protection, depending on your skin type.