Karin Herzog Vitamin H Cream 50ml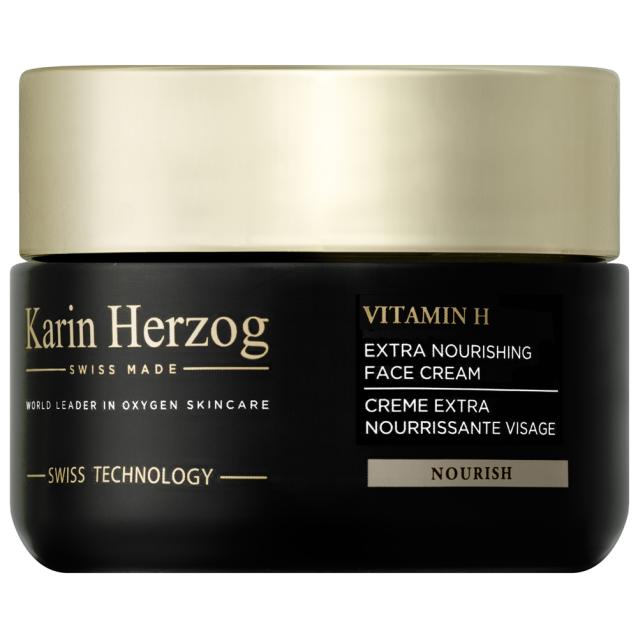 A super light, yet rich nourishing day cream that visibly reduces fines lines and leaves skin looking soft, fresh, luminous and clear. Karin Herzog Vitamin H Cream is great used alongside Vita A Kombi creams, rich in natural vitamins, minerals and proteins it provides additional nutrients that are simply not found naturally in abundance in the skin as we age. This protective cream, a nourishing skin cocktail, combines biotin (vitamin H), carrot oil, beta carotene and soya glycine with rosewood oil. Guaranteed healthy glow and velvet soft skin.
Vitamin H Face Cream gives back to the skin all the additional ingredients necessary to obtain and maintain a healthy glowing balanced complexion. Replaces lost fats and lipids, protects against the harsh winter winds and extreme cold temperatures which can burn and savage your skin. Working wonders to correct conditions such as rosacea, psoriasis and eczema and similar conditions when used in conjunction with Karin Herzog Facial Oil together with Karin Herzogs patented Oxygen formulas for the face.
Beneficial for all skin types, but especially those over the age of 30 and those with devitalised, under nourished skin. As we age these essential ingredients are naturally lacking in the skin, the less these elements are available, the worse the condition of the skin becomes and problems set in.
A truly holistic beauty product.
The inclusion of essential Rosewood oil in Karin Herzog Vitamin H Face Cream, provides it with its wonderfully up lifting, exotic smell. Take the aroma of old English Roses as the scent is gently released upon application and feel the spirits start to lift. Aromatherapists have long since extolled the virtues of the rose aroma. It is said to help bring love, well-being, contentment and a positive outlook.
Perhaps the best holistic benefit of all however, is the surge in confidence you enjoy when you know you have good quality skin, and get complimented on looking your best. looking and feeling good become as one with Karin Herzog skin care from Switzerland.
Key ingredients:
Beta-carotene (a natural source of vitamin A without the allergic tendencies).
Vitamins B1, B2, B6, B12 (essential energy vitamins to accelerate cellular renewal.
Soya Protein (a natural protection and fortifying ingredient to comfort and nurture the skin).
Essential Rosewood (to delicately soften, calm and hydrate, with proven anti-ageing lifting properties).
Rare and natural Vitamin H (recognised by doctors as a vital element, so essential to the skin and contributes towards a better natural defence against potential cosmetic problems in the skin).
How to use: These creams are highly recommended to complement oxygen based skincare treatments for skin that tends to be dry, to provide optimum comfort during the natural manufacture of collagen. They can also be applied on their own as a day cream and make an excellent base for make up application. Apply by massaging all over the face, on their own or after an oxygen skin care treatment.
Expert Tip: for deep nourishment of the skin with Vitamin H: at night, apply Vitamin H by massaging, then apply the oxygen skincare treatment on top using a brush.
Paraben and preservative free and not tested on animals.
Colin Marshall Confirmed Purchase
Mar 14, 2023
JG Customer Confirmed Purchase
Feb 11, 2021
I used to use this many years ago when no-one had heard of Herzog. Eventually I found it so difficult to get hold of that I gave up. I was delighted to find a stockist again and so I'm gradually treating myself to my favourite products.
Phoebe Ross Confirmed Purchase
Apr 2, 2018
This cream is very soothing.