Dermalogica Skin Perfect Primer SPF30 22ml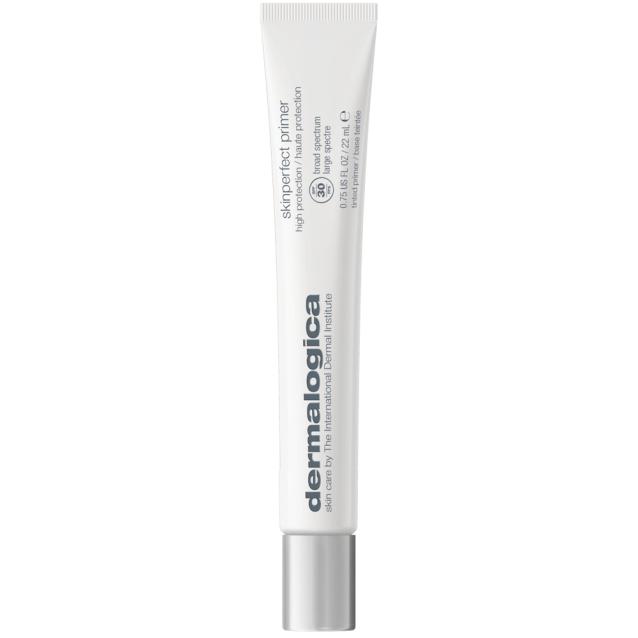 Dermalogica Skin Perfect Primer SPF30 is a illuminating make up prep. Enhance your skin luminosity and radiance with Skin Perfect Primer SPF 30. This new product is a must have skincare product from the Age Smart range, formulated with the latest ingredients and technology, helping to smooth away fine lines, brighten and prime the skin for a flawless look as its preps skin before makeup application. Velvety silicones create an instantly smooth surface and a neutral tint helps balance tone for added luminosity and radiance. Peptides and AGE Smart actives help firm and shield against MMP and free radical damage, as sunscreens shield against sun damage. Wear alone over your moisturiser for visible smoothness and luminosity, or after moisturiser application and before foundation to help fill fine lines for a lasting makeup finish.
How it works:
Velvety silicones help even skin texture, creating an instantly smooth surface.
Pearl Powder and natural earth minerals provide a neutral tint, suitable for all skin tones, to enhance luminosity and radiance.
Modern dispersion of Titanium Dioxide and Zinc Oxide (physical sunscreens) provide Broad Spectrum UVA and UVB defense without chalky, whitening and drying effects.
Contains ingredients known to fight skin ageing including Reactive Oxygen Species (ROS), Matrix Metallproteinases and Advanced Glycation End-products (AGEs)
How to use: After applying your Dermalogica Moisturiser, smooth and blend over entire face and throat. Can be worn alone or underneath make-up to extend wear.
Is Skin Perfect Primer suitable for all skin tones?
Yes, natural earth minerals provide a neutral tint to help balance skin tone.
Can I use my Skin Perfect Primer in the evening?
Yes, this product is suitable for both day and night time use.
Do I apply Skin Perfect Primer before or after my moisturiser?
Skin Perfect Primer should be applied to skin after you have moisturised.
Can I use Skin Perfect Primer alone?
This product can be worn as a primer for foundation, or you can use alone to enhance skin texture and increase skin luminosity.
Lorraine Scott Confirmed Purchase
Jun 14, 2022
Velvety texture, my favourite product and spf 30 makes it a winner
JG Customer Confirmed Purchase
May 15, 2022
A really good canvas for foundation and the sun protection factor is a real bonus when used with an SP foundation, which mine is.
JG Customer Confirmed Purchase
Jan 20, 2022
Better than any BB cream I have ever tried. Goes on evenly and gives no irritation to my skin. Great for having photos taken. The only downside is that there is only one shade, and it's a bit too dark for my complexion; imagine it's a bit too light for other people's.
Lorraine Scott Confirmed Purchase
Jan 18, 2022
Amazing product, very velvety smooth on skin and great SPF
JG Customer Confirmed Purchase
Sep 14, 2021
Love this product, beautiful smell and velvety texture
JG Customer Confirmed Purchase
Mar 28, 2020
Pauline Silverwood Confirmed Purchase
Mar 26, 2020
Mrs Furby Confirmed Purchase
Feb 9, 2020
Have used this for sometime...excellent primer and added SPF 30 is a true bonus
JG Customer Confirmed Purchase
Aug 21, 2018
Use this over and over again. Love the spf
JG Customer Confirmed Purchase
May 1, 2018
I find this product very good and it makes my skin feel very smooth under foundation