Dermalogica Precleanse Cleansing Oil 150ml Pump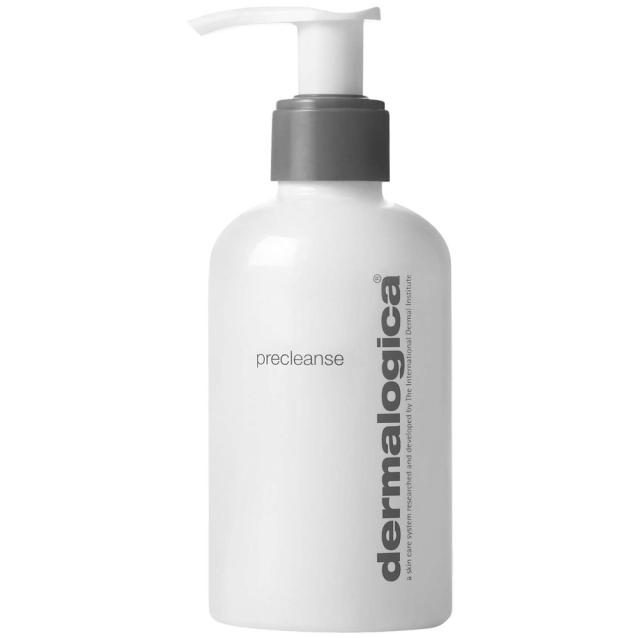 Dermalogica Precleanse Cleansing Oil 150ml is the first step in your cleansing routine. It is great for all skin conditions especially oily and will give your skin that professional double cleanse at home. This deep cleansing oil removes make up, impurities, sunscreen and pollutants from the skins surface that build up during the day. A lightweight cleansing oil that transforms into a milky emulsion when in contact with water to thoroughly deep cleanse the skin leaving it ultra clean. Made with a blend of olive and apricot kernel oils that cleanse your skin, while borage, kukui nut and rice bran oils, that are rich in fatty acids, nourish without clogging pores.
To cleanse even more deeply for your cleanest skin yet follow your PreCleanse with your prescribed Dermalogica cleanser. This product is great for all skin types, even oily skins benefit from this water soluble formula as it cuts through oil leaving pores clean. Dermalogica Precleanse Cleansing Oil Pump is the original product to double cleanse your skin to a glowing healthier condition.
How it works:
Dissolves oil-based make up, sebum, sunscreen and environmental pollutants from skin's surface.
Removes oil without compromising skin's natural barrier lipids or clogging pores.
Olive Oil, Vitamin E, and Borage Seed Oil help smooth and nourish skin.
How to use: Dispense into dry hands. Massage over dry face and eyes to dissolve surface oil and dirt. Concentrate on areas of congestion or stubborn debris. Wet hands and continue massaging to create a light, milky emulsion. Rinse with lukewarm water. Follow with prescribed Dermalogica Cleanser for professional cleansing results.
Free Smoothing And Firming Results Made Easy Duo Set added to your parcel, when you spend £85 or more on Dermalogica. T&C apply.
Delsena Line Confirmed Purchase
Feb 3, 2022
Others have tried to make similar, none of them will ever compare. Takes off all traces of what you can't even see until it is going down the drain. Feels nice and not greasy.
I am not a fan of the pump though so I have a cap from an old bottle that I have kept.
Indira Thomas Confirmed Purchase
Jul 3, 2021
Jacqui Mackellar Confirmed Purchase
Sep 23, 2020
Highly recommend this product, perfect for removing makeup before using my cleanser
Mrs Furby Confirmed Purchase
Feb 9, 2020
Love this cleansing oil...very thorough in a cleansing routine...
highly recommend it