Dermalogica Oil Free Matte SPF30 50ml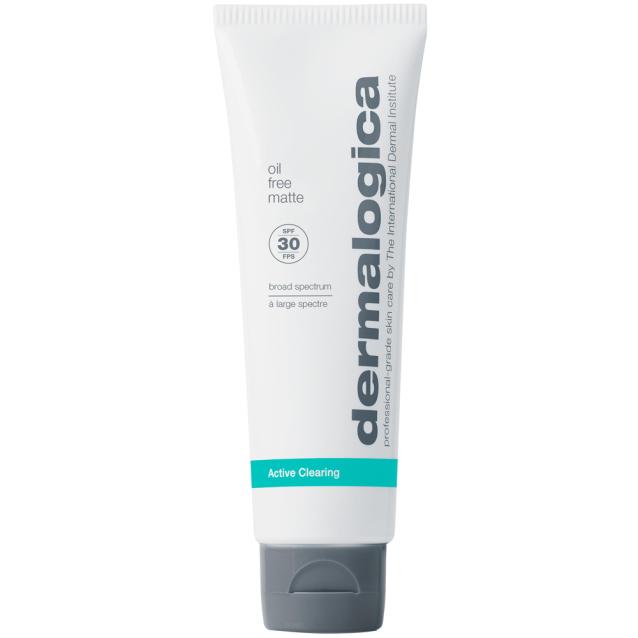 Stop skin feeling greasy while protecting it from harmful UV rays with Dermalogica Oil Free Matte SPF30 50ml formulated for oily skin prone to breakouts, this broad spectrum sunscreen contains Zinc gluconate, caffeine, niacinamide, biotin and yeast extract to soothe and regulate oil production by cleverly acting as oil absorber so that your skin looks matte all day without any powdery residue. This sheer formula contains UV Smart Booster Technology, on exposure to UV, it releases antioxidant vitamins C and E to protect the skin against free radical damage. In addition Olemosome Technology, which is moisture rich spheres of vitamin E and safflower oils, enables Oil Free Matte to have a higher SPF with fewer chemicals, making it also suitable for even sensitive skins. This is a great product for anyone with oily, shine prone complexions and visible pores, as it helps to promote an even, matte skin finish.
Suitable for: oily, breakout prone skin.
How it works:
Oil free, lightweight formula.
Absorbs excess oils for an all day matte finish.
Shields against UV damage.
No mineral oil, no lanolin, no formaldehyde, no artificial fragrance or colours
How to use: Apply evenly and liberally to face, preferably 15 minutes prior to sun exposure. Or, mix with your moisturiser or foundation, then apply. For continuous coverage, apply regularly and reapply as needed after swimming and exercise.