Dermalogica Multivitamin Power Firm Eye Cream 15ml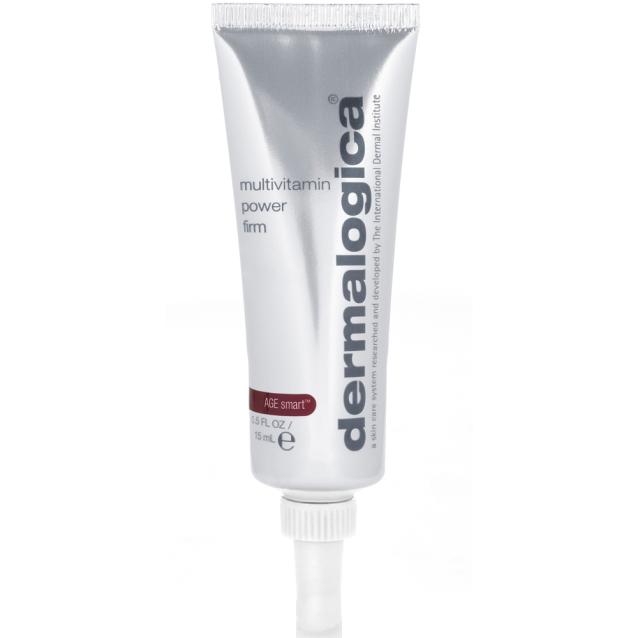 Reduce the appearance of any visible fine lines around the eyes with Dermalogica Multivitamin Power Firm Eye Cream 15ml a smoothing vitamin eye cream features a powerful firming eye complex with vitamin A to accelerate the skins natural repair process, and antioxidant vitamins C and E to improve elasticity and scavenge skin damaging free radicals. Silicones melt gently into the skin to protect the vulnerable skin from moisture loss, acting as a protective barrier against further assault, they also act as a primer helping to fill in the lines around the eye area and combat visible lines and improve firmness.
Suitable for all skin types, gentle yet powerful, Dermalogica Power Firm Eye Cream is one of the most sort after Dermalogica eye treatments if you are concerned with ageing, dryness and dehydration around the eye area. An infusion of vitamins help accelerate skins natural repair process, strengthening elasticity, improving smoothness, and defends against free radicals. This lightweight Dermalogica eye cream melts into the skin, whilst green tea soothes. We are so obsessed with this powerful product, we even use it on lips too.
Suitable for: signs of ageing, dryness and dehydration
Why should I use Multivitamin Power Firm?
Protects against moisture loss to help minimise fine dryness lines
Helps firm, moisturise and smooth under eyes
Skin looks brighter and plumper
Rich in antioxidants to help shield against free radicals
Can be used around the eyes as an eye cream, as well as around the lip area
Can also be used in preparation for concealer for a smooth base.
How to use: Smooth around eyes, concentrating on areas of visible ageing.
Is Dermalogica good for ageing skin?
Dermalogica Age Smart MultiVitamin Power Firm is an eye cream that will help you target fine lines, age spots, elasticity, wrinkles, pigmentation and firmness thanks to a powerful cocktail of vitamins, green tea, and red seaweed extracts with one squeeze.
JG Customer Confirmed Purchase
Jun 16, 2023
Love this eye cream. It is expensive but a little goes a long way and it lasts a long time.
JG Customer Confirmed Purchase
Jun 7, 2022
Very effective cream
JG Customer Confirmed Purchase
Apr 2, 2021
Best eye cream on the market
Luisa Brown Confirmed Purchase
Jul 14, 2020
Great product. Highly recommend
JG Customer Confirmed Purchase
Jul 6, 2020
Another great product from Dermalogica.
Janet Morley Confirmed Purchase
Apr 13, 2018
Been using this for years - love it!