Dermalogica Clear Start Clarifying Body Spray 177ml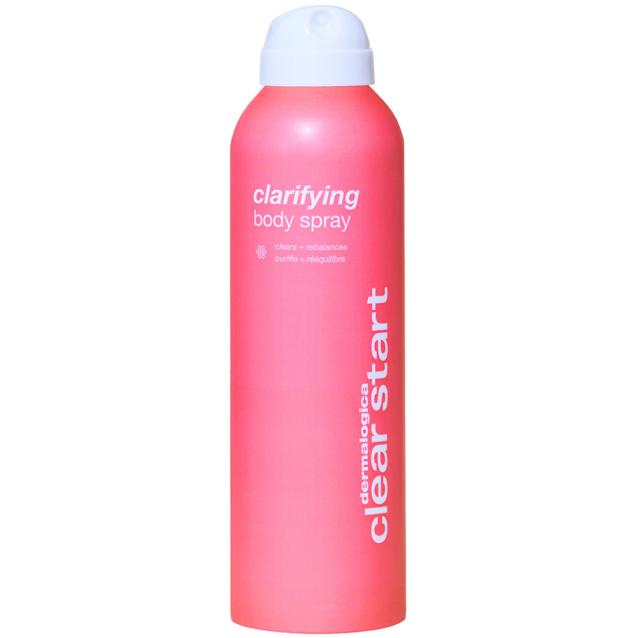 Body breakouts can be distressing and impact your body confidence. But worry no more, Dermalogica Clear Start Clarifying Body Spray is here to act fast on those hard-to-reach areas, helping you clear clogged pores and minimize future breakouts. Our refreshing mist is designed to disperse upside-down, ensuring you never miss a spot!
Clear Start Clarifying Body Spray is the perfect choice for teenage, breakout-prone skin. If you're looking to treat active body breakouts, reduce redness, and prevent future breakouts, this is the solution you've been waiting for!
Suitable for: normal, oily, combination
Skin concerns: breakouts, excess oil and shine, large or clogged pores.
Key Benefits:
Combats Active Body Breakouts: This powerful body spray is formulated to combat active body breakouts, targeting the root causes of breakouts like sweat, oil, dead skin cells, and bacteria trapped in pores.
Minimises Future Breakouts: Say goodbye to future body breakouts! Our body spray's advanced formula helps to prevent and minimise future breakouts, keeping your skin clear and healthy.
Soothes, Cools, and Revives the Skin: Experience the calming sensation of gentle botanicals, soothing your skin and providing relief from discomfort caused by breakouts.
Balances Excess Oil and Reduces Redness: Exfoliating Salicylic Acid teams up with Witch Hazel, Tea Tree Oil, and Moroccan Argan Extracts to balance oil production and reduce redness, leaving your skin looking and feeling its best.
How to use: Hold the spray about a foot and a half away from your body and mist onto clean, dry skin. Let it sink into skin for 30-60 seconds.
Active Ingredients: Salicylic Acid 1.0%