Dermalogica Clear Start Breakout Clearing Foaming Wash 177ml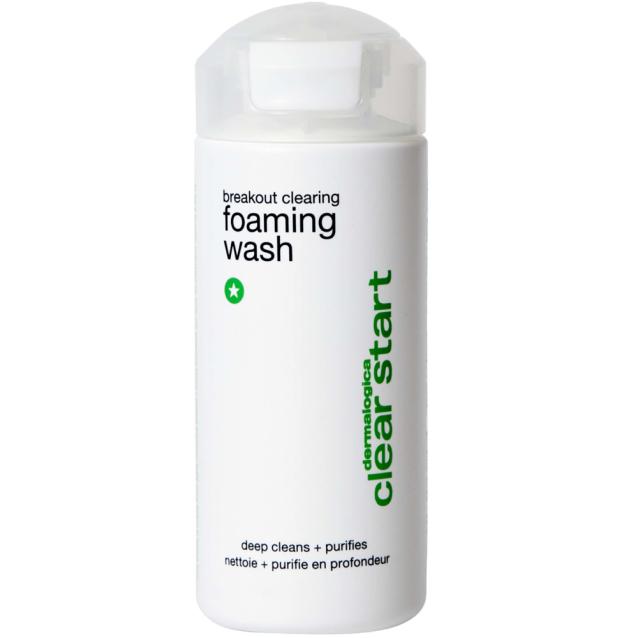 Deep cleanse and purify teen skin with Dermalogica Clear Start Breakout Clearing Foaming Wash a must have facial wash for teenagers to control breakouts and blemishes. With salicylic acid, known as a beta hydroxy acid, that clears away trapped and excess oil, dulling dead skin cells and unblocks pores preventing any further breakouts and leaves skin looking brighter and free from blemishes. Extracts of tea tree and lavender soothe and calm any redness and inflammation, aids with healing and rids the skin of any breakout causing bacteria. You can use Clearing Face Wash on any areas that suffer from breakouts and need a deep clean like the face, back and neck.
What are the benefits of Dermalogica Clear Start Breakout Clearing Foaming Wash?
Washes away dead skin cells, dirt and excess oils for fewer breakouts.
Clears and soothes skin with botanicals.
Can be used all over face and body to treat and help prevent future breakouts.
Salicylic Acid dives deep into pores, clearing dead skin cells and trapped oils to help wipe out existing and future breakouts.
Formulated with 8 botanicals including Tea Tree, Lavender and Camellia Sinensis, known to gently soothe and calm irritated skin.
Orange Peel Extract revives, energises, and refreshes.
Free from parabens, artificial fragrances, dyes and mineral oils.
How to use: Morning and night, lather a small amount in damp hands, then rub over face, neck, chest, anywhere you want to wipe out dirt and breakouts. Keep out of your eyes. Rinse thoroughly with warm water.
Free Smoothing And Firming Results Made Easy Duo Set added to your parcel, when you spend £85 or more on Dermalogica. T&C apply.
JG Customer Confirmed Purchase
Jul 15, 2020
Bought this for my 11 year old daughter who is experiencing hormonal acne. Skin got worse for a few days but now is very much improved. Initially used with the free trial-size toner which was maybe a bit much and overly dried out her skin but once she stopped using that, all is good.
Whitney Ward Confirmed Purchase
Apr 28, 2020
Feel lovely on skin and really works will be buying :)
kelly tallis Confirmed Purchase
Jan 23, 2020
JG Customer Confirmed Purchase
Sep 28, 2019
I bought this for my son who had been suffering from acne and it was really getting him down. It is a miracle product! His skin cleared within a few days of use. My daughter also now uses it. A bit pricey but well worth it, it's amazing!