Dermalogica Clear Start Breakout Clearing Fizz Mask 50ml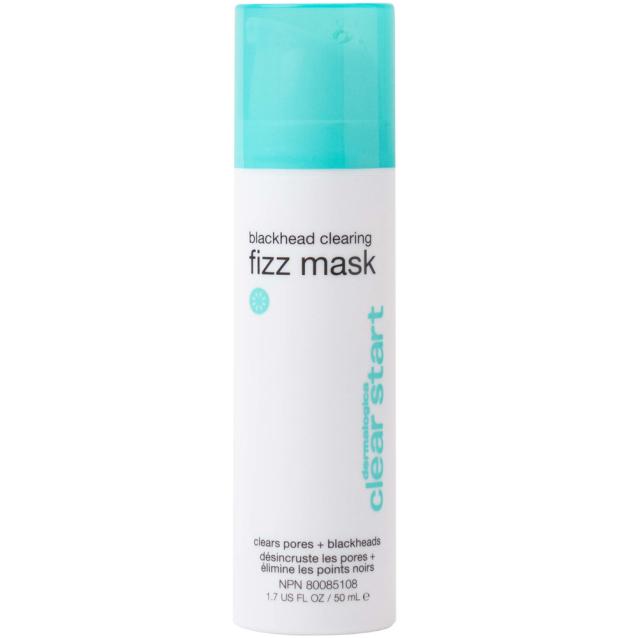 A unique mask for teenage skin, Dermalogica Clear Start Breakout Clearing Fizz Mask targets your blackheads before they turn into breakouts. Activating upon application, its unique fizzing technology works to open pores and help dissolve congestion and facilitate blackhead clearing. Sulphur provides anti-microbial benefits, while kaolin clay absorbs excess oil and purifies the skin. Hydrating apple fruit extract helps to nourish and prevent over drying, leaving your skin clearer and hydrated. Clear Start products help teens and young adults cut through the hype to achieve a healthy-looking radiance and prevent flare ups.
"The Blackhead Clearing Fizz Mask literally dissolves your blackheads. The way it foams is just so cool! I can really feel it working." - Georgia Toffolo, TV Personality.
Clear Start is a system of nine serious products that utilise medicated ingredients and soothing botanicals to deliver real results. Created by the skin health experts at Dermalogica, the brand that has been changing the face of skin care for more than 25 years. It became clear that no one was addressing the needs of teens, not only with products that get results, but also with the education they need, when Dermalogica Founder Jane Wurwands own daughters entered their teenage years.
Skin care product choices available to teens may be ample, but they are not good choices. Products for teens often contain harsh and inexpensive ingredients to strip the skin of oil, and are filled with artificial fragrances and colours, all things that can irritate and strip oil from skin, causing more problems than you started with.
Benefits:
Proactively treat blackheads for your clearest skin.
Helps control excess oil.
Active fizzing mask that oxygenates to clear pores to target blackheads.
Gluten free, vegan, no artificial fragrances and colours, paraben free, cruelty free
How to use: Apply to areas of congestion and allow 3 to 5 minutes to fully activate. Rinse thoroughly and follow with your recommended Clear Start product.
Expert tip: Use 2 to 3 times per week, more if needed.
Free Smoothing And Firming Results Made Easy Duo Set added to your parcel, when you spend £85 or more on Dermalogica. T&C apply.
Linda Hetherington Confirmed Purchase
Mar 11, 2022
My granddaughter loves it, for a 13 year old helps to get her skin bright and fresh
JG Customer Confirmed Purchase
May 26, 2021
It works ! My 15 year old daughter loves it
Glenise Sharpe Confirmed Purchase
Mar 3, 2020
okdoes what it says you can feel it working on your skin
kelly tallis Confirmed Purchase
Jan 23, 2020