Dermalogica Skin Resurfacing Lactic Acid Cleanser 150ml Pump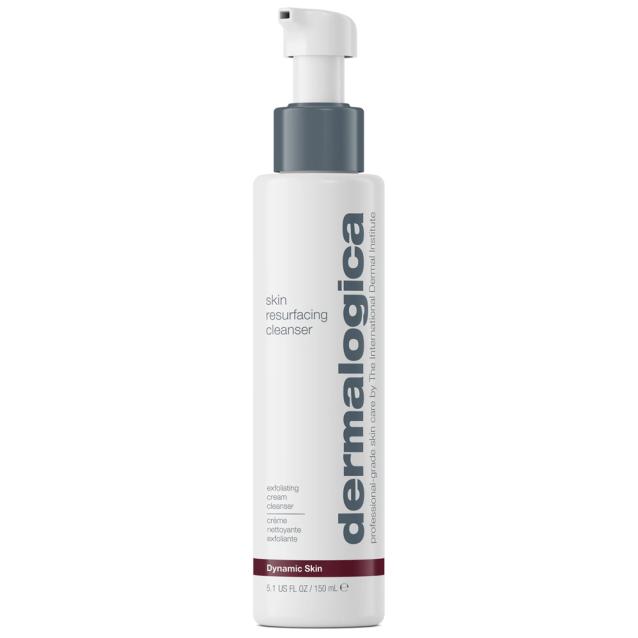 A two in one exfoliating cleanser that will leave your skin brighter, smoother and clearer, Dermalogica Skin Resurfacing Lactic Acid Cleanser combines hydroxy acids with Vitamin E and Rose Flower Oil to condition skin, enhancing its softness and leaving it ultra clean and smooth. Suitable for mature and prematurely ageing skin this silky cleanser will give you superior smoothness after just one use, with highly active lactic acid that works to remove dulling surface debris making it perfect for skin suffering from the visible signs of ageing, dramatically improving texture and preparing skin for the maximum penetration of other AGE Smart products. With Vitamin E, an antioxidant that conditions your skin and fortifies its natural moisture barrier. Skin will be left glowing with health, be brighter and softer.
Our skincare expert Alex, recommends that the Dermalogica Skin Resurfacing Lactic Acid Cleanser is used once a day or every other day, depending on your skin type and sensitivity.
Suitable for: mature or prematurely ageing skin
How to use: Following the application of PreCleanse, lightly lather in hands and apply to damp face and throat morning and evening, massaging with light, upward strokes for at least 30 seconds, avoiding the eye area. Reduce to one use per day if any sensitivity develops. Follow with Dynamic Skin Recovery SPF30 when used in the morning.
What Alex our skincare expert says: "If you are new to using this cleanser then I would always recommend that it is incorporated in to your skincare routine gradually, using it a few times a week only. You can build up your usage over a 4-6 week period as your skin gets used to the hydroxy acids, increasing it to every other day or to once a day. If you experience any irritation then just decrease the usage to a few times a week. This retexturising cleanser is very effective when used correctly and perfect for those skin types that are concerned with the signs of premature ageing but have a few broken capillaries and can't use an abrasive facial scrub".
How it works:
Lactic Acid dramatically smooths skin while hydrating, brightening, and accelerating cell turnover.
Antioxidant Vitamin E improves skin softness.
Rose Flower Oil helps calm and soothe skin sensitivity.
Preps skin for maximum penetration of AGE Smart treatment products.
What does Dermalogica skin Resurfacing cleanser do?
Dermalogica Resurfacing Cleanser contains lactic acid which is a hydroxy acid, that works by removing old and dull skin cells from the surface of the skin, by dissolving the bonds that hold them together. This exfoliating cleanser leaves skin smoother, clearer and brighter.
How do you use Dermalogica resurfacing cleanser?
You lightly lather in hands and apply to a damp face and neck with light strokes, avoiding the eyes and lips. You can then remove with a wet face cloth or rinse away with warm water. Depending on your skin type Resurfacing Cleanser can be used once a day for more tolerant skin types, or 2-3 times a week for more sensitive skin. You can also mix a small amount of Resurfacing Cleanser with a half-teaspoon of Daily Microfoliant to cleanse and exfoliate at the same time, a real radiance booster.
What is a dual-action exfoliating cleanser?
A dual action exfoliating cleanser is a two-in-one cleanser and exfoliant.
Jackie Graham Confirmed Purchase
Jul 14, 2023
I have been using this cleanser for years now & wouldn't be without it. It gives my skin a real glow after cleansing & really seems to renew & refresh skin


mandie king Confirmed Purchase
Jul 29, 2022
My favourite cleanser. Lost count of how many bottles I have used. Nice consistency, cleans and resurfaces the skin with out stripping it. I've used this for ages and the 1st couple of times o used it my face felt slightly tight but that has stopped.
johanna gall Confirmed Purchase
Feb 1, 2021
Christine Cadwallader Confirmed Purchase
Jan 1, 2021
I love Age Smart and have been using this cleanser for years. Not the cheapest cleanser on the market, but for me one of the best.
Barbi Laine Confirmed Purchase
Nov 18, 2020
laatutuote
Diane Power Confirmed Purchase
Jun 9, 2020
Great cleanser use once a day and my skin feel very smooth
Fiona Fulton Confirmed Purchase
Mar 24, 2020
Excellent cleanser. Some reviews have said it makes their skin feel tight but I am 57 with very dry skin and have never found this. I splash my face with cold water to remove it and find it to be a great product. Used it for years.
Jackie Graham Confirmed Purchase
Mar 23, 2020
Great cleanser for mature skin!