Tisserand Eucalyptus Organic Essential Oil 9ml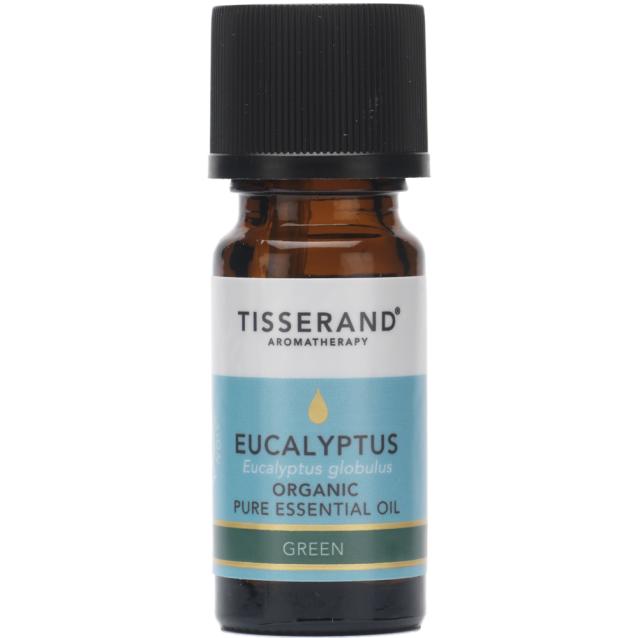 Tisserand Eucalyptus Organic Essential Oil 9ml is a strong, fresh and stimulating oil with a piercing balsamic aroma. Ideal for vaporisation to clear the head and boost concentration. Extracted from gargantuan Australian trees spanning skywards for up to 100 meters, Eucalyptus essential oil is used in a plethora of modern treatments, for everything from a common cold to reviving tired muscles.
Eucalyptus proved a valuable traditional remedy to the native people of Australia who soaked the leaves in boiling water to release a powerful vapour that helps clear chest conditions and coughs. Used in massage Eucalyptus can boost the circulation and warm cold hands and feet. The perfect remedy for the stresses and strains of the colder seasons.
Extraction Method - Steam distillation
Plant Part - Leaves
Aroma - Sharp, clearing and green
Fragrance Family - Green
Perfumery Note - Top
Consistency and Colour - Thin and colourless
Blends Well With - Grapefruit, Peppermint and Rosemary
Keywords - Clean, Fresh and Clearing
Shelf Life - Once opened, store in a cool dark place and use within 12 months.
Certified organic essential oils are derived from plants that have been grown without the use of man-made fertilisers, herbicides or pesticide, instead using ecosystem management methods to maintain the health of both plant and soil. There are no inputs such as genetic modification or irradiation.
Safety: Eucalyptus is not recommended in massage for people with sensitive skin, but can be vaporised. For external use only. Do not use undiluted on the skin. Avoid contact with sensitive areas, such as eyes. Keep out of reach of children. Do not use essential oils on children under 5 years old. Consult your healthcare professional before using essential oils during pregnancy. Best kept in a cool dry place. Naturally occurring allergens: Limonene.