Tisserand Geranium Ethically Harvested Essential Oil 9ml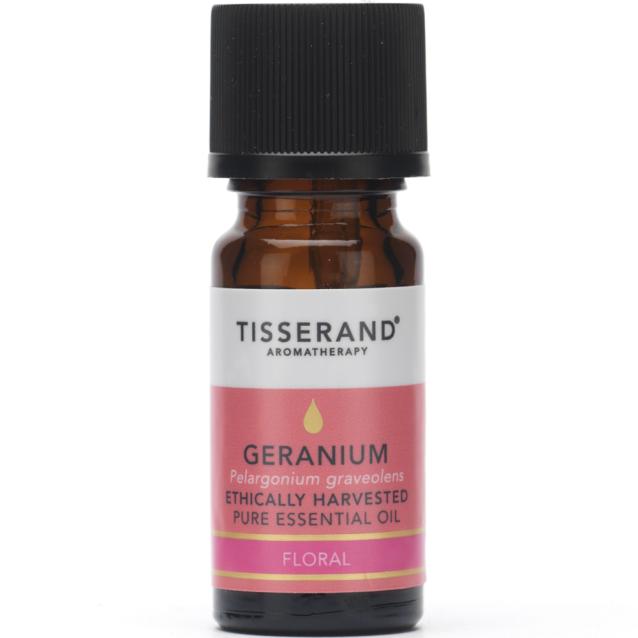 A rosy, refreshing and intense oil with a sweet floral aroma. Tisserand Geranium Ethically Harvested Essential Oil is ideal in massage or the bath to balance combination skin and harmonise the emotions. There are over 250 known varieties of Geranium, grown throughout the world. The fragrant plant used to extract our essential oil is the Pelargonium Gravolens, originating from South Africa. Unlike many other floral fragrances, the distillation process for Geranium essential oil uses the leaves of the plant, not the flowers themselves. The velvety leaves of the plant contain thousands of microscopic hairs, each one housing a tiny drop of essential oil. Geranium is used in modern aromatherapy to nurture and lighten the soul. Great for balancing mood and calming anxiety.
Extraction Method - Steam distillation
Plant Part - Leaves and stalks
Aroma - Sweet, soothing and rosy
Fragrance Family - Floral
Perfumery Note - Middle
Consistency and Colour - Thin and pale yellow
Blends Well With - Bergamot, Lavender and Lemongrass
Keywords - Balancing, Nurturing and Soft
Shelf Life - Once opened, store in a cool dark place and use within 12 months.
Ethically Harvested denotes sustainable cultivation. An ethically harvested essential oil is derived from a herb, shrub or tree that is not harvested so aggressively that the species becomes depleted. As far as aromatic plants are concerned, species depletion is only rarely a problem with herbs (which are mostly easy to grow in quantity) but tends to be more of an issue with slow growing trees.
Safety: For external use only. Do not use undiluted on the skin. Avoid contact with sensitive areas, such as eyes. Keep out of reach of children. Do not use essential oils on children under 5 years old. Consult your healthcare professional before using essential oils during pregnancy. Best kept in a cool dry place. Naturally occurring allergens: Limonene