Tisserand Rosemary Organic Essential Oil 9ml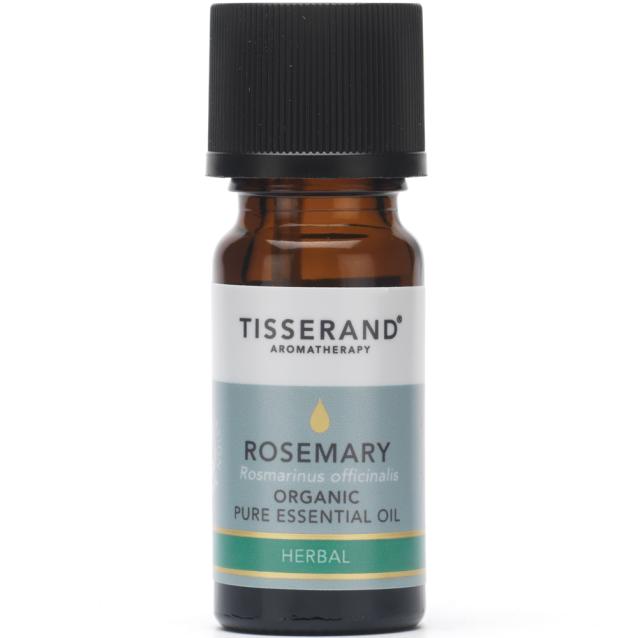 Tisserand Rosemary Organic Essential Oil is a bright, refreshing and penetrating oil with a bracing herby aroma. Ideal in massage or the bath to stimulate the mind and relieve tired muscles. Warming and revitalising Rosemary essential oil is a potent and powerful inclusion to stimulating aromatherapy blends. Native to the southern Mediterranean, this hardy herb now grows prolifically throughout Europe.
Steam distillation is applied to the leaves of the Rosemary shrub, releasing intensely herbal essential oil, hailed for its effects in boosting circulation and invigorating the skin and mind. Use in diffuser blends with a citrus or mint fragrance to cleanse a room and awaken creativity. A few drops inhaled from a tissue may also help to improve short term memory, particularly helpful during exams or periods of increased workload. A recent survey found that pupils working in a room infused with Rosemary essential oil achieved 5% to 7% better results in memory tests.* Northumbria University*.
Extraction Method - Steam distillation
Plant Part - Leaves
Aroma - Warm, herbal and woody
Fragrance Family - Herbal
Perfumery Note - Middle
Consistency and Colour - Thin and colourless
Blends Well With - Grapefruit, Lavender and Lemongrass
Keywords - Invigorating, Enlivening and Refreshing
Shelf Life - Once opened, store in a cool dark place and use within 12 months.
Certified organic essential oils are derived from plants that have been grown without the use of man-made fertilisers, herbicides or pesticides - instead using ecosystem management methods to maintain the health of both plant and soil.
Safety: Rosemary should not be used by people with epilepsy or high blood pressure. For external use only. Do not use undiluted on the skin. Avoid contact with sensitive areas, such as eyes. Keep out of reach of children. Do not use essential oils on children under 5 years old. Consult your healthcare professional before using essential oils during pregnancy. Best kept in a cool dry place. Naturally occurring allergens: Limonene and Linalool.