Karin Herzog Additional Sweet Day And Night Cream 50ml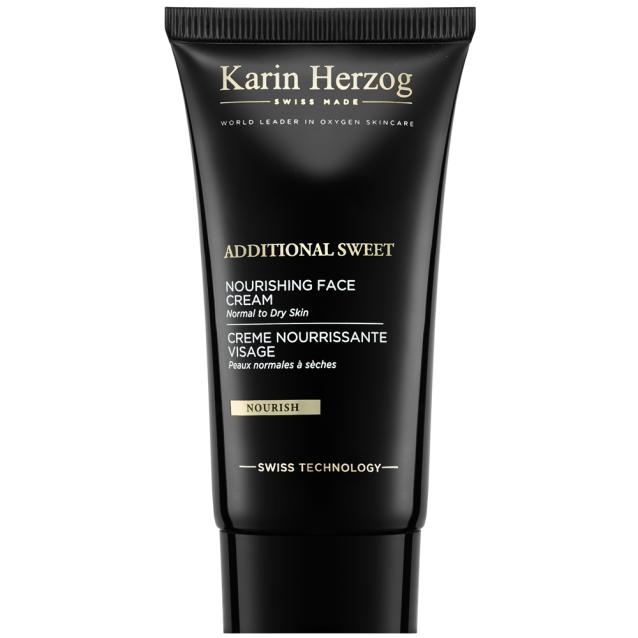 Great for dry, mature, dehydrated skin types, and especially recommended for skin that is new to oxygen treatments to help with hydration levels whilst waiting for the normalising effect of the Oxygen cream. Karin Herzog Additional Sweet Day And Night Cream protects skin and provides nourishment, eliminating dryness. This cream restores the hydro lipid film of the epidermis, whilst providing additional comfort and providing protection in cold climates. Used once you will be convinced of the effectiveness of this product when you feel the quality of the skin in the morning. It is like having a facial while you sleep.
As with all Karin Herzog products this luxurious cream is hand made in small batches to guarantee freshness and quality and is bursting with softening, conditioning and nurturing vitamins and natural goodness. Vitamins A and E boost micro circulation and really help lift and plump the skin. The addition of grade A avocado oil in the cream leaves the skin, silky soft to the touch whilst the lipids and peptides help smooth and hydrate.
Used in conjunction with Oxygen therapy at night, you with see visible and tangible results, awaken bright and visibly radiant.
Benefits:
Vitamin A to revive and renew.
Vitamin E to hydrate and comfort.
Wheat germ oil to nourish and soften.
Avocado oil to hydrate and feed.
Provides comfort for tired, dull, dry skins.
Helps to Minimise fine lines.
How to use: Apply by massaging over the entire face, alone or after an oxygen treatment. We recommend the use of a comfort cream in addition to an oxygen treatment for skin with a dry tendency, to ensure optimal comfort during the natural production of collagen..
Paraben and preservative free and not tested on animals.