Jan Marini Skincare System Dry/Very Dry With Physical Protectant SPF45 Tinted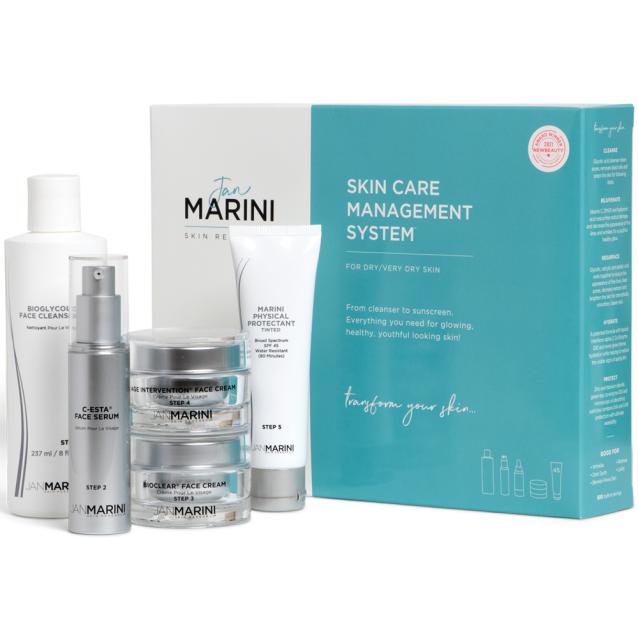 Jan Marini Skincare System Dry/Very Dry With Physical Protectant SPF45 Tinted is an Award Winning Skincare Management System with full sized products for a complete 5 step skincare routine, from cleanser to sunscreen, your hydrating skin care kit is complete with everything you need for healthy, youthful looking skin. Key technologies work synergistically to provide maximum results across multiple skin concerns. This comprehensive skincare system incorporates Vitamin C, peptides, growth factors, AHA and BHA exfoliators, hydrators and sunscreen to deliver rapid improvement in the appearance of fine lines and wrinkles, uneven texture and sun damage.
Kit Contains:
Bioglycolic Facial Cleanser 237ml
A gentle cleanser suitable for all skin types. This formula is soap-free, non-irritating and rinses completely without the need for a post-cleansing toner or astringent. May be used AM and PM. Do not use as a makeup remover.
C-ESTA Serum 30ml
A readily absorbed serum to smooth the skins texture and make skin more supple. Apply AM and PM to clean skin. Apply over entire face, neck and behind the ears.
Bioclear Face Cream 28g
A powerful combination of glycolic, salicylic and azelaic acid provide a broad-range of benefits for dramatically smoother, clearer, more luminous looking skin. Apply once or twice a day.
Age Intervention Face Cream 28g
A patented formula specifically targets changes in the appearance of skin resulting from hormonal changes and cumulative sun exposure.
Physical Protectant Tinted SPF45 57g
The ultimate in pure physical susncreen wearability. Delivers broad-spectrum UVA and UVB protection with added oil control and antioxidants. Apply in the morning.