Crystal Clear Oxygen Face Polish 200ml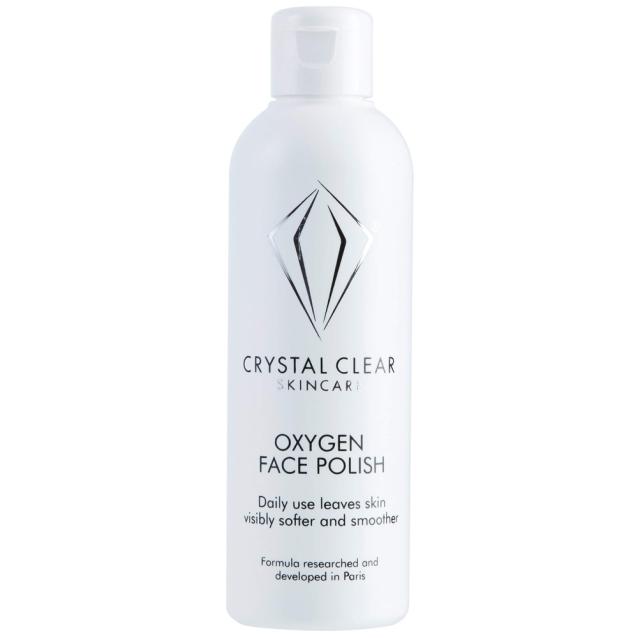 Stimulate cell turnover and buff away dead skin cells with Crystal Clear Oxygen Face Polish. Suitable for all skin types, especially problem prone and sensitive. Refining and smoothing, this face polish helps to prevent breakouts by unclogging pores, and provides intense rejuvenation for ageing skin, helping the appearance of fine lines, wrinkles, sun damage, and with the clearing of spot prone skin, leaving it perfectly balanced, cleansed and radiant. Active ingredient Oxylastil, oxygentates skin cells and gives skin an antibacterial shield, while jojoba beads gently buff away dead skin cells. Oxygen Face Polish combines a unique moisturising complex and vitamin E to protect against moisture loss and leaves skin soft. Gentle enough to be used daily, expect cleansed, smoothed, revitalised and an oxygenated complexion.
Benefits:
Repairs and reconstructs the skin.
Fights and repairs damage caused by environmental factors.
Rejuvenates, smoothes and exfoliates the skin with Jojoba beads.
Oxylastil stimulates cell turnover and provides energy to restructure the skin.
How to use: After cleansing apply a small amount to the face with a gentle circular massage, rinse with tepid water.
Professional Tip: If your skin is sensitive, you can still use Oxygen Skin Polish but only use on the congested areas - nose and chin.