Crystal Clear Intense Anti Ageing Moisturiser 50ml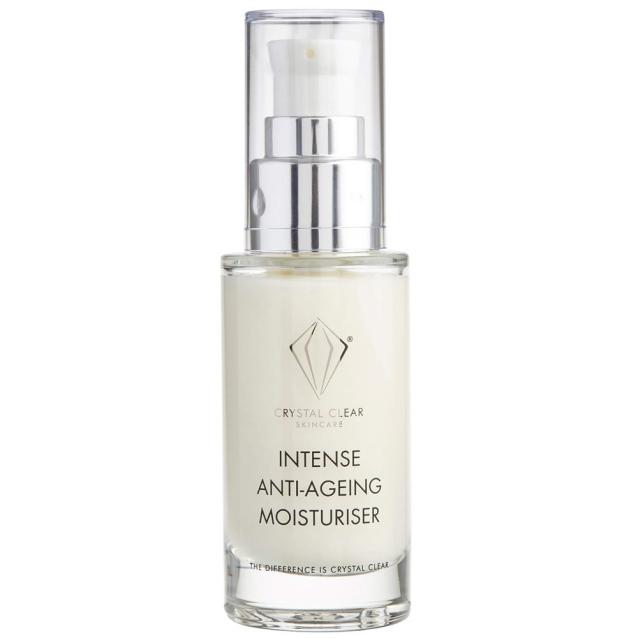 Firm, lift and smooth your skin with Crystal Clear Intense Anti-Ageing Moisturiser packed full of high percentage anti-ageing ingredients such as Matrixyl 3000, Bio-peptides and Synake, this moisturiser is hailed as 'Botox in a bottle'. Suitable for all skin types especially dry, dehydrated and mature skin, with the addition of crushed precious stone Tourmalia, which revives skin radiance and promotes a healthy glowing complexion. This clever combination of active ingredients creates radiant, dewy, fresher, firmer, younger more toned and hydrated skin while reducing the appearance of lines and wrinkles.
Benefits:
Anti-Ageing
Reduces wrinkles
Tones and hydrates
Boosts collagen production
Strengthens the skin
Suitable for all skin types
How to use: After cleansing, apply two pumps into the palm of your hand. Massage hands together and apply to the face and neck. Massage gently in an upward and outward motion. Use morning and evening.
Expert Tip: For a quick radiance boost, exfoliate daily for seven days to ensure removal of dead skin cells. Apply anti-ageing moisturiser mixed with one pump of our brightening complex twice daily. You will notice as the weeks progress that not only does your skin appear more dewy and hydrated with lines and wrinkles softened, but the texture will become more radiant and brighter.
Is this product a replacement of the Intense Anti Ageing Serum?
This product is the same as the Intense Anti Ageing Serum, it has just changed it's name to Intense Anti Ageing Moisturiser. The ingredients and benefits are exactly the same still.