Ardell Naturals Babies Black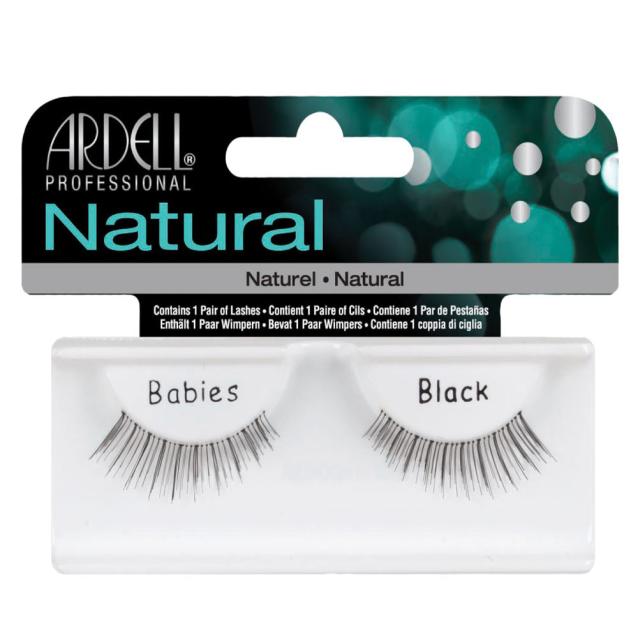 Ardell Naturals Babies Black are lightweight and reusable. They have just the right amount of volume to add a touch of flare and length. These Babies have an invisible lash band, which makes them look super natural once applied.
Elevate your everyday look with Ardell Naturals Babies Black eyelashes. These lightweight and reusable lashes offer the perfect blend of volume, length, and natural flair, making them an excellent choice for both everyday use and special occasions. The invisible lash band ensures a seamless blend with your natural lashes, providing a look so natural, no one will know you're wearing falsies. Designed to accentuate the eyes without overpowering them, these lashes strike a perfect balance. Handmade with real hair, they provide a comfortable wear experience that's easy to apply and remove. Ideal for those who are new to false lashes or simply want a more understated effect, these lashes are a versatile addition to your beauty arsenal. Note: Lash adhesive is not included, so don't forget to add your preferred brand to your basket.
Handmade with real hair
Easy to apply and remove
How to apply: Thoroughly clean your eyelashes and eyelids so they are make-up and oil free. To check the fit, lay the lash on top of your natural lash. If it extends beyond your lash line, trim the excess with small scissors. Apply a thin line of adhesive to the lash band. Wait about 30 seconds for adhesive to set, then place the lash as close to your natural lash line as possible. Use your fingertip to gently press along the band to secure in place.
Please note: Glue is not included.