Ardell Naturals 118 Black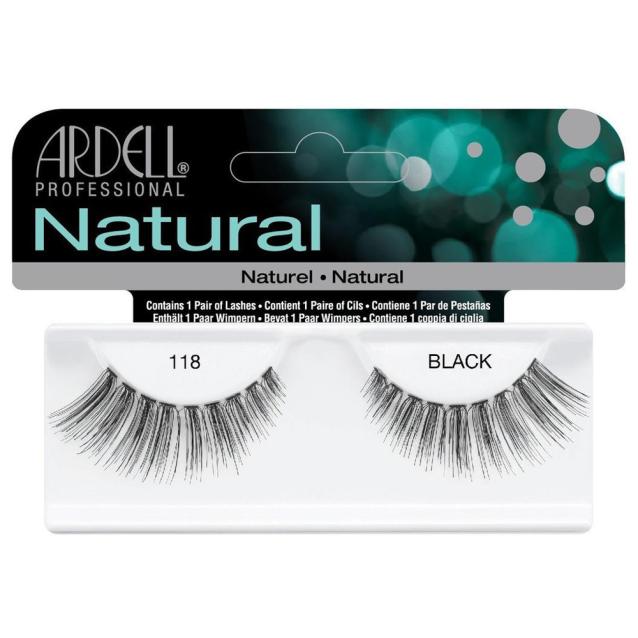 The Ardell Naturals 118 Black are lightweight and reusable. They have a stand out graduated effect to make them appear fuller and longer at the outer corners. They are perfect for a bold and sparkling look.
Transform your eyes with the Ardell Naturals 118 Black eyelashes, designed for those who desire a dramatic flair but also want a natural look. The graduated effect of these lashes not only adds fullness but also elongates the eyes, drawing attention to the outer corners for a sultry, cat-eye finish. Ideal for evening events or any occasion where you want to make a striking impact. As with all Ardell lashes, the Naturals 118 Black are handmade with real hair, providing an authentic finish that can be flawlessly incorporated into your natural lashes. Whether you're a lash aficionado or new to the game, these lashes offer a user-friendly application process that's perfect for everyone. Please note that lash adhesive is sold separately, so make sure to add your preferred brand to complete your purchase.
Handmade with real hair
Easy to apply and remove
How to apply: Thoroughly clean your eyelashes and eyelids so they are make-up and oil free. To check the fit, lay the lash on top of your natural lash. If it extends beyond your lash line, trim the excess with small scissors. Apply a thin line of adhesive to the lash band. Wait about 30 seconds for adhesive to set, then place the lash as close to your natural lash line as possible. Use your fingertip to gently press along the band to secure in place.
Please note: Glue is not included.