Tisserand Sleep Better Aroma Spa Diffuser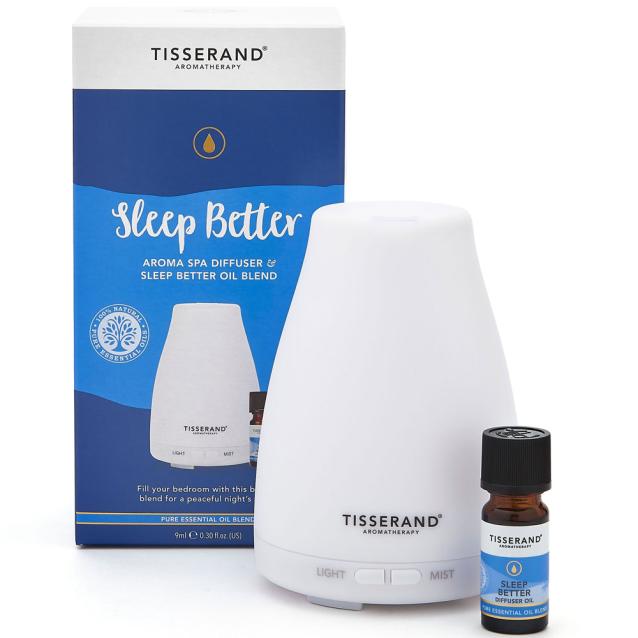 For the ultimate pre sleep bedtime ritual use Tisserand Sleep Better Aroma Spa Diffuser. Includes the best selling Sleep Better Diffuser Oil to help you to switch off, drift off and recharge. With a blissful blend of Jasmine, Sandalwood and Lavender essential oils to fill your bedroom with this blissful blend for a peaceful nights sleep.
The Sleep Better Ritual: To prepare your bedroom for a good nights sleep, add 6 to 8 drops of Sleep Better Diffuser Oil to your Aroma Spa Diffuser 2 hours before you need to go to bed. If you fall asleep whilst the Aroma Spa Diffuser is still in use, there is an automatic shut off once the Aroma Spa Diffuser runs out of water.
This Aroma Spa Diffuser combines an elegant lightweight design with all the benefits of ultrasonic aroma technology that fills the room with a fine and silent mist. Ultrasonic aroma technology is an ultrasonic based vaporisation that produces an ultra fine mist of water, diffusing your preferred essential oils to create the perfect fragrance and mood.
When switched on, the ultrasonic diffuser begins to vibrate water molecules at a specific frequency. This causes the water to heat up, producing steam with tiny bubbles. The essential oil blend is heated in the water reservoir and, as the steam begins to rise, the ultrasound breaks the bubbles apart to form an incredibly fine vapour.
The Aroma Spa Diffuser also combines the benefits of aromatherapy with chromatherapy through gentle variations of soft coloured light.
Includes: Aroma Spa and Sleep Better Diffuser Oil.
Benefits:
Diffusion control.
Soft mood lighting control.
Water level indicator.
Compact size (100ml water capacity).
Perfect aroma mist – add essential oils to water to deliver a steady amount of fine fragranced mist to suit your mood.
4-5 hours continuous mist mode.
Automatic shut down when diffuser runs out of water.
Ultra quiet for maximum comfort, especially at night.
Use with Tisserand Aromatherapy pure essential oils or our pre blended vaporising oils.
How to use: Touch the Mist button once for a short time until a green light comes on at intervals (30 seconds of diffusion followed by 30 seconds of pause before the cycle restarts). Press the Mist button a second time and the green light will turn red, indicating that the mist will be continuously diffused. When you press the Mist button a third time, the mist will stop being diffused and the light will turn off. It is possible to stop diffusion and lighting at any time by keeping the Mist button depressed.