Tisserand Marjoram Spanish Wild Crafted Essential Oil 9ml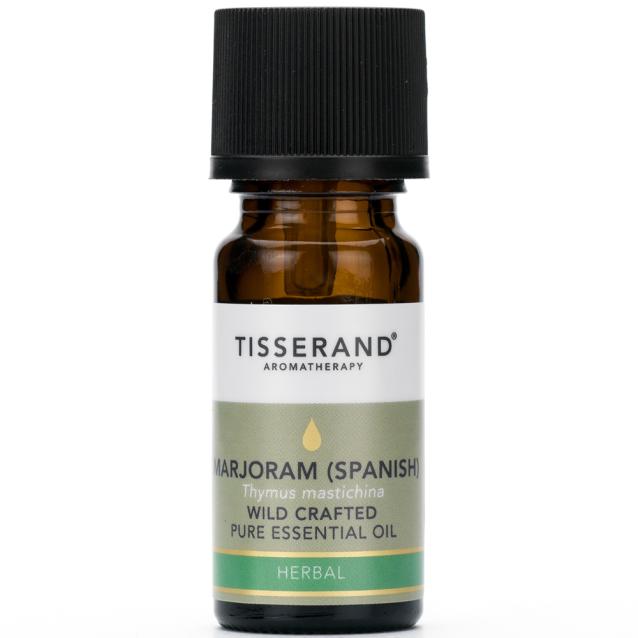 Tisserand Marjoram Spanish Wild Crafted Essential Oil is a stimulating, fortifying and warming oil with a rich herby aroma. Ideal in massage or the bath to strengthen the mind and relieve tired muscles. Native to the Iberian Peninsula of Portugal and Spain, Spanish Marjoram is a wild growing Mediterranean herb, popular with herbalists the world over. Its appearance is actually more similar to Thyme than Marjoram, which is reflected in the plants botanical name; Thymus Mastichina.
Traditionally used in Spain and Portugal as an infusion to ease coughs, colds and influenza, Spanish Marjoram as an essential oil is used in a plethora of immune boosting treatments. Blended in a carrier oil and massaged on to the chest, Spanish Marjoram will help to boost circulation and strengthen immunity to common coughs and colds, perfect during the winter months. Spanish Marjorams pungent and herbal fragrance has a fortifying effect on the mind and if used in steam inhalation or a diffuser, will help to energise and lift lethargy.
Extraction Method - Steam distillation
Plant Part - Leaves
Aroma - Pungent, herbal and green with spicy notes
Fragrance Family - Herbal
Perfumery Note - Middle
Consistency and Colour - Thin and colourless
Blends Well With - Ginger, Rosemary and Lemon
Keywords - Stimulating, Restorative and Fresh
Shelf Life - Once opened, store in a cool dark place and use within 12 months.
Wild crafted essential oils are derived from plants that are not cultivated, but are gathered from their natural, wild habitat. Although they are not organic, they will not have been contaminated by synthetic chemicals (pesticides, fertilisers etc.) and will be growing in conditions favourable to the health of the plant.
Safety: Suitable in massage blends for normal skin. Not recommended for those with sensitive or allergy, prone skin. For external use only. Do not use undiluted on the skin. Avoid contact with sensitive areas, such as eyes. Keep out of reach of children. Do not use essential oils on children under 5 years old. Consult your healthcare professional before using essential oils during pregnancy. Best kept in a cool dry place. Naturally occurring allergens: Limonene and Linaloo