Swissdent Crystal Repair And Whitening Toothpaste 50ml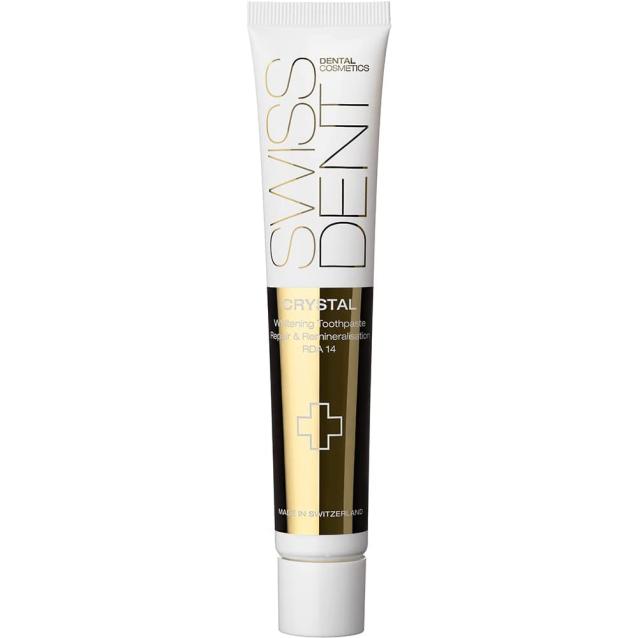 Choose this small tube of Swissdent Crystal Repair And Whitening Toothpaste 50ml for easy use and for a whiter, brighter and a youthful smile Swiss Dent have created the Crystal Repair and Whitening Toothcream designed to be used at night like regular toothpaste. With its patented Biomimetic Re-Mineralisation Technology it is proven to repair the mineral loss from the tooth enamel. The formula is enriched with Herbal Enzyme Papain and Zinc which eliminates plaque, protects from cavities and reduces sensitivity.
Benefits:
The white colour of minerals gives the teeth a younger, whiter shade
The patented formula also contains the natural herbal enzyme papain in combination with zinc for effective plaque and pigment elimination
The extraordinary low RDA value of 14 ensures super-sensitive, non-abrasive cleaning of teeth
SLS-free (Sodium Lauryl Sulfate is a foaming agent and can cause aphtha)
Paraben-free
Fluoride-free
How to use: This unique tooth care can be used as a regular toothpaste. For best result it is recommended to use CRYSTAL before bedtime, without further rinsing; that way CRYSTAL works for several hours after the application. This extended action of the effective ingredients on tooth enamel will bring even better regenerative and anti-ageing results.