Swissdent Biocare Wellness For Teeth And Gums Toothpaste 50ml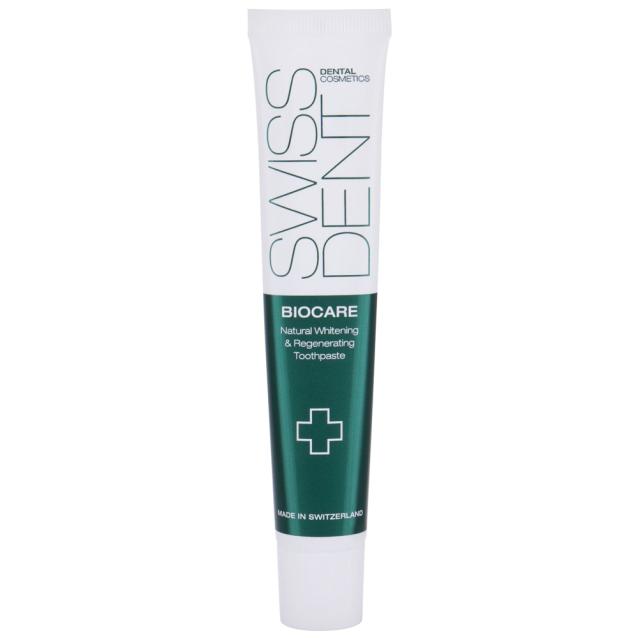 Small tube for easy carrying and to take away. Look after your teeth and gums. Strengthening and protecting tooth cream, Swissdent Biocare Wellness For Teeth And Gums Toothpaste 50ml prevents new stains.
Benefits:
New formula: The combination of Hydroxyl Apatite, L-Arginine, L-Carnitine and Elephantopus mollis extract strengthens the tooth surface, prevents sensitivity and inhibits further discolouration.
Herbal extracts fight the formation of dental plaque and promote healthy gums.
Formulated with natural antioxidants.
The natural enzyme Papain helps to remove stains.
Alpha Hydroxy Acids (AHA), Hyaluronic Acid and Gotu Kola extract regenerate and condition the gums.
Free of: SLS (Sodium Lauryl Sulfate is a foaming agent which can cause aphtha and dehydrates the oral mucosa), parabens, fluorides, PEG derivatives, artificial flavourings, triclosan, lactose, gluten
Also suitable for children over 4 years of age
Low abrasiveness
How to use: For optimal results, use the Swissdent Biocare toothpaste in the morning for a refreshing, revitalising brushing sensation and use Crystal Repair And Whitening Toothpaste at night time without rinsing.