St Tropez Self Tan Classic Bronzing Mousse 240ml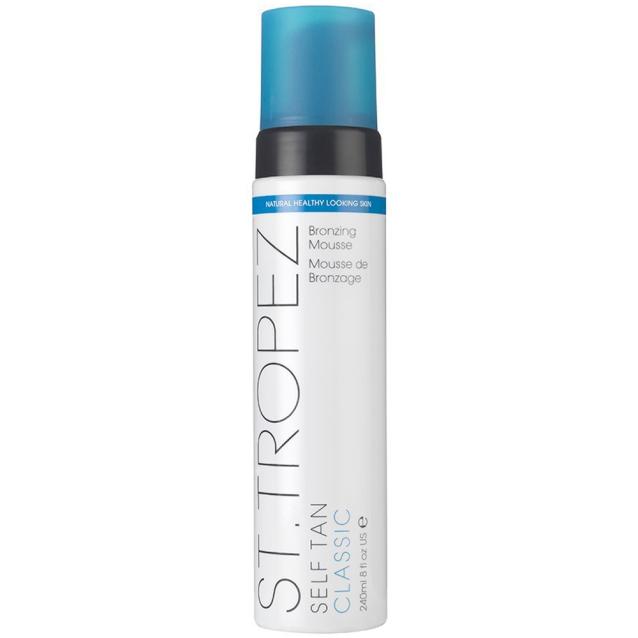 A velvet mousse infused with vitamin E to protect and repair your skin. Apply St Tropez Self Tan Classic Bronzing Mousse 240ml with a St Tropez Applicator Mitt for a streak free golden tan that will last for up to 10 days with even fade. A multi award winning self tan with no self tan smell, just a beautiful mood boosting fragrance.
Benefits:
Our most iconic, natural and healthy looking tan
No self tan smell, with our new mood-boosting fragrance
Lightweight, streak-free and easy to apply
Quick-drying and non-sticky, with no transfer
Apply using a St.Tropez Tan Applicator Mitt
Tan lasts for up to 10 days
How to apply:
Step 1: Exfoliate 24 hours prior to use. Immediately prior to application, moisturise any dry areas including elbows, knees, ankles and feet.
Step 2: For best results, apply using our Tan Applicator Mitt in long sweeping motions, starting at the ankles and working your way up. Then for your back, turn the mitt back to front and start applying in the same way. Ensure all areas are covered before lightly gliding any excess tan from the Mitt over your hands and feet.
Step 3: Wait until touch dry before getting dressed.
Step 4: Allow 4-8 hours before showering to reveal your developed tan.
Step 5: To prolong and maintain your tan, moisturise daily, exfoliate regularly and reapply as desired.