St Tropez Express Bronzing Mousse 200ml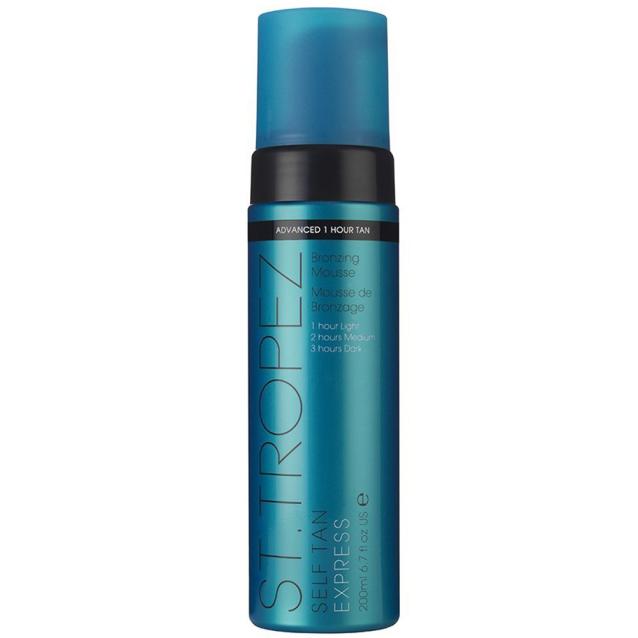 An advanced formula that enable you to get the perfect tan for any season, with three different levels of tan depending on how long you leave if on before showering. For a light sun kissed glow leave St Tropez Express Bronzing Mousse on for one hour before showering off the guide colour. For a medium tan leave on for 2 hours, for a deep bronze tan leave for 3 hours. After showering your tan will continue to develop for up to 8 hours leaving you with a natural looking, steak free tan that last for days.
Benefits:
Control your depth of tan
Apply using our Tan Applicator Mitt
No self tan smell, with our new mood-boosting fragrance
1 hr = light sunkissed glow
2 hrs = medium golden tan
3 hrs = deep dark bronze
How to use St Tropez Express Self Tanning Bronzing Mousse:
Step 1: Exfoliate 24 hours prior to use. Immediately prior to application, moisturise any dry areas including elbows, knees, ankles and feet.
Step 2: For best results, apply using our Tan Applicator Mitt in long sweeping motions, starting at the ankles and working your way up. Then for your back, turn the mitt back to front and start applying in the same way. Ensure all areas are covered before lightly gliding any excess tan from the Mitt over your hands and feet.
Step 3: Wait until touch dry before getting dressed.
Step 4: Allow 1, 2 or 3 hours depending on your desired shade, before showering to reveal your developed tan. Your tan will then continue to develop for up to 8 hours.
Step 5: To prolong and maintain your tan, moisturise daily, exfoliate regularly and reapply as desired.