Neom Perfect Night's Sleep Reed Diffuser 100ml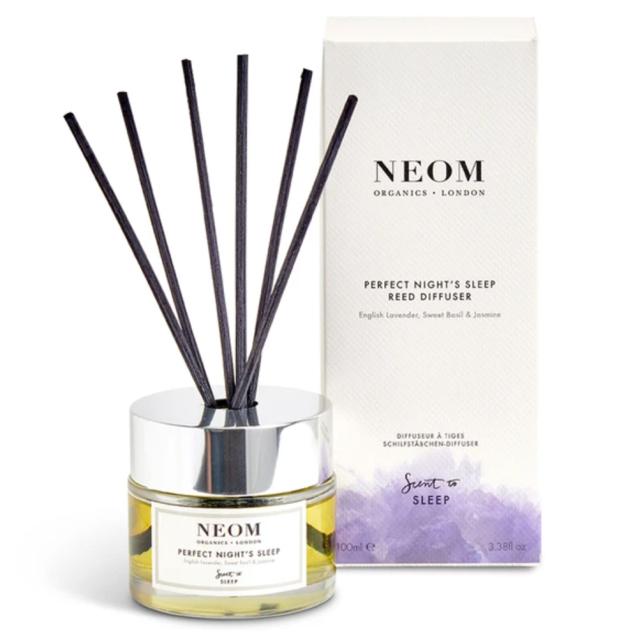 Relax your mind and induce sleep with Neom Perfect Nights Sleep Reed Diffuser part of the Scent To Sleep range with a natural fragrance of 19 deeply relaxing essential oils, including English lavender, sweet basil and jasmine, for a therapeutic effect on your body and mind, helping to prepare you for slumber with its heavenly relaxing blend. Neom Reed Diffuser Perfect Nights Sleep is made from a blend of the finest natural ingredients and scented with an incredible amount of the purest possible essential oils. Neom reed diffusers work to change your mood as they fill the air with natural goodness, lasting for up to 12 weeks. You simply choose the treatment you need.
Size: 100ml / 6 sticks
Fragrance: The purple splendour of a neatly lined lavender field on a glorious English summers day. The green, sweet scent of English lavender, typically a little cleaner smelling than the more floral French lavender, coupled with sweet basil and pretty jasmine is a heavenly relaxing blend.
Therapeutic effects: Neom spent two years expertly twisting together hundreds of oils to find a blend that would help induce the perfect night's sleep. Lavender has been proven in countless studies to calm and relax the mind and body when inhaled. In our trials the vast majority of people had a better nights sleep after using this scent.
Directions: Unscrew the collar and remove the seal. Replace the collar and insert the reeds. Allow 48 hours for the fragrance to fill the room with scent. For a stronger scent use all of the reeds and turn daily. For a more subtle scent use fewer reeds and turn less often.
Expert Sleep Tip: Use this reed diffuser in your bedroom, and for a real burst of fragrance, turn the reeds before bedtime. Soak in a warm bath with the Neom Perfect Nights Sleep Bath Foam and use the Perfect Nights Sleep Pillow Mist for maximum quality and quantity of sleep.
Whether it is to relieve stress, calm and relax, aid sleep, boost your energy or lift your mood, Neom make a Scent to make you feel good.
Cannot be shipped overseas