Neom Perfect Night's Sleep Intensive Skin Treatment Candle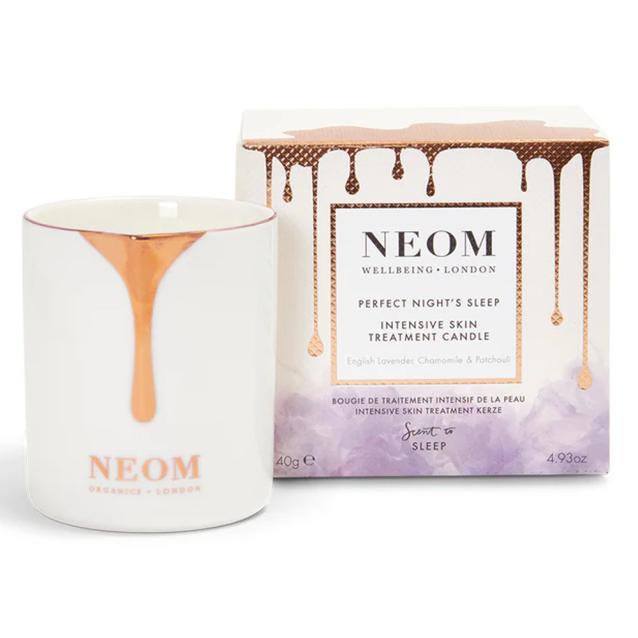 In just one application Neom Perfect Nights Sleep Intensive Skin Treatment Candle will intensively treat tired and stressed skin whilst preparing you for a good nights sleep. The Scent To Sleep natural fragrance that will help you relax and switch off has been blended with skin nourishing oils of baobab, jojoba, rapeseed, soybean, sweet almond and cocoa butter that work together to penetrate the skin leaving it repaired and nourished, a soothing treat for dry skin. Perfect Nights Sleep Treatment Candle has a beautifully delicate gold rimmed container, formulated with a low melt point so that it is ready to use and in just after just 2 minutes, melting into a soothing aroma therapeutic pool of oil that is ready to be drizzled over the skin for massage. With a complex of 19 seductive essential oils that includes English Lavender, Sweet Basil and Jasmine making it the perfect winter companion.
Weight: 140g
Benefits:
All Neom skin products have three benefits. Two for your skin and one for your mind. After all, you cannot look good if you do not feel good.
1. Nourish - Rich cocoa butter and almond oil
2. Soften - Moisturising soybean oil
3. Sleep - 19 relaxing essential oils
How to use: This unique, deeply nourishing treatment is perfect for all over the body. Give your Intensive Skin Treatment Candle 30 minutes to burn and create a pool of precious oil. Meanwhile, you could soak in a warm bath, ideally with the Perfect Nights Sleep Bath Foam. Then blow out the candle flame, cool for 2 minutes and drizzle the warm oil over anywhere in need of repair and rehydration. Be sure to trim the wick after each use, but only after the wax has set.
Fragrance: The purple splendour of a neatly lined lavender field on a glorious English summer's day. The green, sweet scent of English lavender, typically a little cleaner smelling than the more floral French lavender, coupled with sweet basil and pretty jasmine is a heavenly relaxing blend.
Therapeutic effects: Neom spent two years expertly twisting together hundreds of oils to find a blend that would help induce the perfect night's sleep. Lavender has been proven in countless studies to calm and relax the mind and body when inhaled. In our trials the vast majority of people had a better night's sleep after using this scent.